News story
Wendy Hardaker wins Civil Service Leadership award
Wendy Hardaker, Head of the Commercial Law Group at GLD, has won the Civil Service Leadership award at a prestigious award ceremony that took place on 12 November in Buckingham Palace. This fantastic honour recognises Wendy's outstanding leadership qualities in delivering results.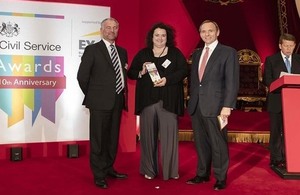 As the Director of GLD's newly-created Commercial Law Group, Wendy has, over a single year, brought together more than 120 people into 7 teams, across 10 government departments and in 9 locations. Wendy's leadership has transformed these teams into a collegiate and professional group, which delivers commercial legal services across government and is fast becoming a highly regarded shared expert service.
From the outset, Wendy has driven the creation of the group with great enthusiasm, purpose and kindness. Her passion and honesty are driving forward real change in the approach to commercial legal work.
Jonathan Jones, Treasury Solicitor, was at the award ceremony in Buckingham Palace. He said:
The fact that the civil service has recognised Wendy's achievement also says something very powerful about the quality of what we do here and confirms the Government Legal Department's arrival as part of the Whitehall family.

To hear Wendy announced as winner in such splendid surroundings and in the presence of the Queen and Prince Phillip will certainly rank as one of my proudest moments as Treasury Solicitor.
The Civil Service Awards recognise and celebrate the wealth of inspirational individuals and innovative projects within the civil service. For the last 10 years, these awards have helped to spread best practice across government, sharing innovation, learning and leadership.
Published 13 November 2015