Welsh trail balances Afghanistan training with public access
A valuable new community resource which balances the need for vital military training for troops going to Afghanistan with public access to an unspoilt area of the Welsh countryside has just opened in Pembrokeshire.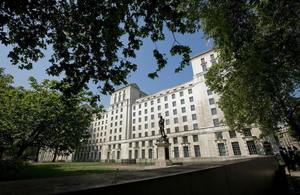 Castlemartin Ranges, part of the Defence Training Estate, provides pre-deployment training for crews operating heavy armoured vehicles. The Pembrokeshire Coast Path crosses the range - meaning people could not access it during live firing. However, the new 5.5 mile (9km) Castlemartin Range Trail now provides an alternative route for ramblers, cyclists and horse riders to move around the range boundary.
Funded by the Welsh Assembly Government (WAG), the Trail forms the latest section on the Wales Coast Path and brings a step closer WAG's goal of creating a coastal path that spans the entire Welsh coast by 2012.
Users are not prevented from continuing their 'coastal' walk by firing activity and can still enjoy some spectacular views of the area - thanks to a marked route, access gates and fencing.
Commander Defence Training Estate Wales & West Midlands Colonel Richard Howard-Gash said:
Supporting our Armed Forces is the top priority for Defence Estates and training areas, such as Castlemartin, are vital elements in helping our troops prepare for operations in Afghanistan.
The Castlemartin Range Trail allows us to balance the pressing need for military training with the desire of walkers, cyclists, horse riders and others to enjoy this area of spectacular beauty.
We are committed to enabling members of the public to enjoy areas of natural beauty which form part of military training facilities, such as Castlemartin.
The Trail was recently opened by Welsh Environment Minister, Jane Davidson who joined walkers, cyclists and horse riders in trying out the route.
The project was set up around three years ago and Defence Estates worked in partnership with WAG, Countryside Council for Wales (CCW) and the Pembrokeshire Coast National Park Authority (PCNPA) to create the route.
Castlemartin Range covers an area of 2,400 hectares within the Pembrokeshire Coast National Park and contains a wide variety of plants and wildlife. It has some of the finest limestone coastal scenery in the National Park.
Spectacular sea-cliffs host the largest concentration of breeding seabirds on the Welsh mainland. Extensive areas of coastal heath and unimproved grassland support many rare insects, including the shrill carder bee, and butterflies, such as silver-studded blue and marsh fritillary.
Published 7 December 2010