Welsh Secretary welcomes introduction of new National Living Wage
Alun Cairns: Hardworking people in Wales deserve a pay rise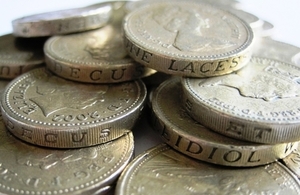 From 1 April workers in the UK aged 25 and over earning the minimum rate of £6.70 per hour will see a 50p increase
The new National Living Wage supports the Government's vision of a higher wage, lower welfare, lower tax society
From today (1 April) the new National Living Wage comes into force across the UK. Workers aged 25 and over that earn the minimum rate per hour will see their pay increase to £7.20p per hour.
Over a million workers in the UK will directly benefit from the rise.
Many will see pay packets rise by up to £900 a year. This will be the largest annual increase in a minimum wage rate across any G7 country since 2009 in cash and real terms.
Secretary of State for Wales Alun Cairns said:
The UK Government firmly believes that hardworking people in Britain deserve a pay rise and the new National Living Wage will make sure this happens.

We are working hard to build a higher wage, lower welfare and lower tax society - one that makes work pay and supports people of all ages across Wales and the UK.

The launch of the new National Living Wage marks significant progress towards this goal.
Published 1 April 2016