Press release
Welsh Secretary: Swansea and Neath Port Talbot businesses are delivering economic growth for Wales
As part of his continued commitment to supporting business growth in Wales, Secretary of State for Wales, David Jones will today start his two-day visit to Swansea and Neath Port Talbot (25 & 26 April).
From Premier League football teams, to research and development centres of excellence, Mr Jones will meet senior executives and members of the Welsh workforce that are making great strides in helping drive the economy forward.
Speaking ahead of the visits, Mr Jones said:
Creating long-term growth and long-term jobs is a key priority for us. Wales is in a global race for economic success and it is vital that we do everything we can to help secure that success. I am looking forward to meeting the key players in Swansea and Neath Port Talbot who embody that vision, and are clearly demonstrating that there is scope to succeed in difficult economic times.
Mr Jones will first visit Swansea University where he will meet the Vice Chancellor, Professor Richard B. Davies to see how the university is underlining its status as a leader in science and innovation.
Mr Jones will visit the College of Engineering where he will visit the SMaRT (Swansea Materials Research and Testing) facilities, where he will be briefed on their work with Rolls Royce. He will also visit the Digital Technium where business leaders are taking part in LEAD Wales – a leadership development programme designed to equip Small and Medium Enterprises with the skills needs to take their businesses to the next level.
Professor Richard B. Davies, Vice Chancellor of Swansea University said:
The SMaRT (Swansea Materials Research and Testing),facility is a collaboration between Rolls Royce and Swansea University that serves Rolls-Royce and other clients' needs for creep and fatigue testing of new and existing materials that are used in the aerospace and aero engine industries. It conducts a mixture of advanced academic research and commercial industrial testing and analysis.
Unprecedented levels of investment in new staff and our research infrastructure have included state-of-the-art developments on campus and structural changes within our academic Colleges, to foster an environment in which world-class research can flourish alongside industrial partners who are able to commercialize some of the new ideas and innovations.
The Welsh Secretary will then see Virgin Media's centre of excellence at Swansea Enterprise Park. The digital media giant announced earlier this year that they would be creating an additional 230 jobs at the state-of-the-art centre, which is already home to around 900 customer service and technical support employees.
Paul Buttery, Virgin Media's chief customer and networks officer said:
We're proud to be able to show the Secretary of State for Wales around our state-of-the-art centre and that, in difficult economic times we have still been able to invest further in the local economy to help us meet the appetite for our TiVo, superfast broadband and phone services across the UK.
We're pleased to be able to offer so many more people in South Wales and at our other centres across the country the prospect of an exciting and rewarding career at the forefront of next generation entertainment and communications. With our continued expansion, Virgin Media will be even better able to support the Government's ambitions for South Wales and the UK as a whole.
With European football and Premier League status guaranteed for another season, Swansea City Football Club's success and the subsequent positive impact on the local economy will be the subject of discussions when the Secretary of State visits the Liberty Stadium later on Thursday. A study conducted and published by Cardiff University Business School in January revealed that Swansea City's first season in the Premier League has generated £58million for the Welsh economy. It also estimated that 400 jobs (340 of them in Swansea) were created or protected by top flight football.
Mr Jones will meet with the Chairman of the club, Huw Jenkins to discuss the club's success, on and off the field. Focus will then turn to the success of the Welsh food and drink industry with a visit to Tomos Watkin Brewery – one of the fastest growing brands in Wales with sales on the increase at home and abroad.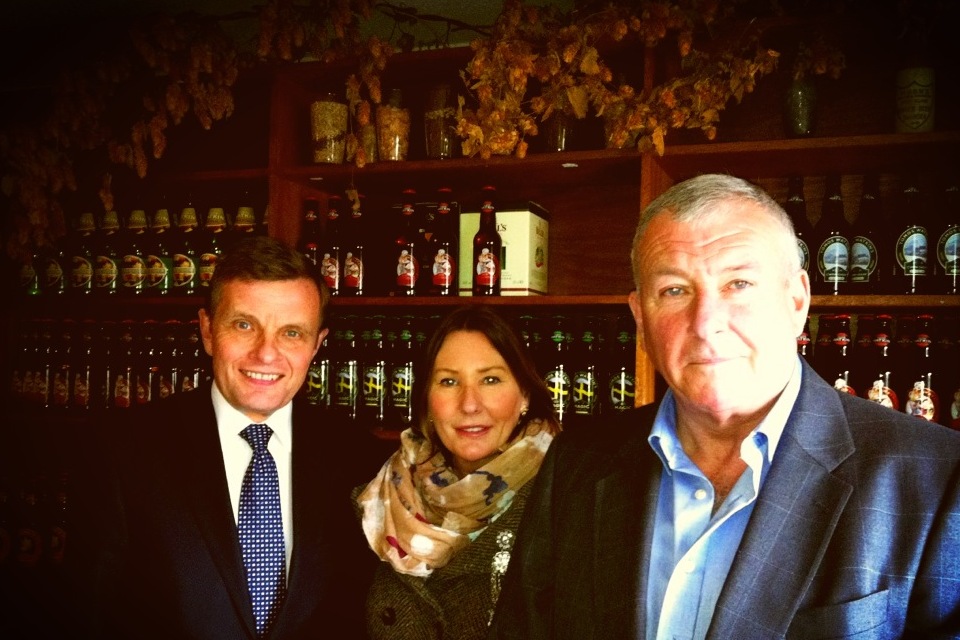 Connie Parry, Chief Executive Officer of Tomos Watkins, said:
Brewing the best beers in Wales, for the people of Wales is a great thrill and we are continuing to take on new staff and to invest in the expansion of our brewery. We are looking forward to sharing our success story with the Secretary of State for Wales.
Mr Jones added:
Britain's privately owned businesses are crucial to the economic recovery of the country. These are businesses that innovate to improve people's lives, build vital infrastructure, and export world class products and services to faster growing parts of the world.
On Friday (26 April), the Secretary of State will make a return visit to Tata Steel's Port Talbot site where he will meet with the senior management team and union representatives to be updated on the challenges and opportunities facing the company. He will also visit the site of the new Blast Furnace No. 4 which has been in operation since February.
Mr Jones will then visit the Sustainable Product Engineering Centre for Innovative Functional Industrial Coating (SPECIFIC) at Baglan Energy Park. The shared vision of the SPECIFIC partnership, led by Swansea University, is to transform buildings into power stations through the application of functional energy generation coatings applied to roofs and walls. The partnership involves other leading university groups, including Imperial College, Bath, Bangor, Cardiff, Glyndwr and Sheffield, and multi-nationals such as Tata Steel, BASF and NSG Pilkington.
Paul Jones, Industrial Director of SPECIFIC said:
Our targets are economic, so first of all to create a billion pound industry, 5 to 10,000 jobs and by the 2020's to source one third of the UK's renewables from buildings.
We have co-location of resources to give rapid research and rapid commercialisation but critically we're working with global scale players to deploy these technologies around the world.
To round off the day, Mr Jones will accompany the Secretary of State for Transport, Patrick McLoughlin on a visit to the Loughor Viaduct near Swansea. The £20million project to replace the viaduct with a new bridge has been completed is part of a package of station and infrastructure improvements being undertaken by Network Rail to make rail travel more comfortable and attractive to the public.
Mr Jones and Mr McLoughlin will meet Network Rail representatives to be updated on the plans to electrify the railway line from London to Swansea, and wider rail investment in Wales.
Published 25 April 2013