Press release
Welsh Secretary: Spending Round will create a stronger, fairer society
Today's Spending Round announcement underlines the Government's commitment to equip Wales and Britain with the tools to deliver a stronger economy and fairer society, said the Secretary of State for Wales, David Jones.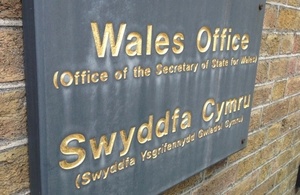 The spending round sets out how Government will continue to reduce the deficit by taking difficult decisions to cut public spending and prioritise investment in infrastructure.
It has been announced today that the Welsh Government's capital budget for 2015/16 will see a 2.0% increase, enabling the Welsh Government to increase its spend on infrastructure projects and support growth.
The Secretary of State is now calling on the Welsh Government to make the right decisions when it comes to how it spends its increased funds.
Secretary of State for Wales, David Jones said:
This Government's commitment to supporting infrastructure and growth is evident in this Spending Round. The UK Government is delivering increased capital budgets for the Welsh Government, in addition to the £858 million additional capital resources provided following Budget and Autumn Statement announcements. I am challenging them to now set their priorities and use this funding to invest in high-quality infrastructure.
Due to the protections afforded by this government to education and health, the Welsh Government's resource budget has been largely protected.
We have also heard today that this government will freeze council tax in England for the next two years and will reform its funding to social care. Clearly, decisions on how the Welsh Government spends its budgets are rightly, a matter for the Welsh Government, however, I would urge the Welsh Government to note these measures very carefully and consider how they make their allocations in line with their own priorities.
It was also announced today that the UK Government is finalising its response to the Silk Commission and will work with the Welsh Government to consider how this can help support a funding solution for the M4 improvement scheme.
Mr Jones added:
The Government recognises that a combination of block grant and self-financing, as recommended by the Silk Commission, would enhance the financial accountability and autonomy of the Welsh Assembly.
We are making good, positive progress in our assessment of the Silk Commission's recommendations and we aim to make an announcement in the very near future.
In other measures announced today, the level of funding provided to the Welsh language broadcaster, S4C through the Department of Culture, Media and Sport will be maintained at current levels for 2015/16.
The UK Government has also agreed with the Welsh Government to reform the Housing Account Subsidy system to give Welsh local authorities the flexibility to manage their own housing expenditure.
Published 26 June 2013
Last updated 27 June 2013
+ show all updates
Added translation
First published.