Press release
Welsh Secretary: "Shipping is an engine for growth in Wales"
Secretary of State for Wales , David Jones, will host an event for the Welsh maritime sector as part of London International Shipping Week on Wednesday 11 September 2013.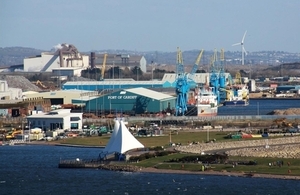 The event aims to bring together representatives from the maritime industry in Wales, government Ministers and other industry experts to discuss how best to grow the industry.
Maritime services in Wales account for nearly 2% of Gross Value Added (GVA) annually, with Welsh ports moving around 60 million tonnes of cargo. This is equivalent to just under 13% of the UK's total throughput.
Speaking ahead of the event, Secretary of State for Wales , David Jones said:
There is no shortage of ambition amongst those in the maritime industry in Wales. I know from my visits to ports across Wales, most recently to Holyhead, that the shipping industry is a key engine for growth in Wales.
I wanted to take the opportunity during London International Shipping Week to showcase what Wales has to offer. Welsh Ports service the four main markets, of ro-ro, passenger traffic, oil and energy sector traffic and general cargo.
This is an exciting time for the sector and I hope by showcasing Welsh ports to the audiences of London International Shipping Week, we can help create further opportunities for growth.
Transport Secretary Patrick McLoughlin said:
This is an industry with a natural home in the UK and London is the centre of the world for the professional, business and financial services that keep ships sailing.
Our quality flag, attractive tax regime, competitive ports, skilled labour base, expert service sector, and stable regulatory framework put us in a strong position. We want to work with the industry to understand what could make the UK an even more attractive place to do business.
To coincide with London International Shipping Week, the Department for Transport and UK Maritime have also today published a booklet, Open for Maritime Business showcasing the depth of expertise and history offered by the UK across a full spectrum of maritime services and Strategic Partnership Plans for ports and shipping.
These identify key priorities for maintaining a vibrant, quality and sustainable shipping industry and a thriving UK ports industry. By working in partnership, government, industry and other stakeholders can together ensure that that the maritime sector in the UK continues to grow.
NOTES TO EDITORS:
*For further information on the Strategic Ports Partnership, please visit https://www.gov.uk/government/publications/shipping-strategic-partnership-plan-a-framework-for-discussion-between-government-industry-and-trade-unions
*The Wales Office is a proud sponsor of London International Shipping Week, which runs from 9 – 13 September.
*London International Shipping Week – Propelling World Trade' is a new and important industry event focusing on London's vital role in the positive development of global shipping.
*Seen as the 'must attend' event in 2013 for the global shipping industry, London International Shipping Week will bring world shipping together for one week.
*For press enquiries on London International Shipping Week please contact Ruth Jolley at the Department for Transport: Ruth.Jolley@dft.gsi.gov.uk or 0207 944 6374 or 07795 333 226
*For requests to interview the Secretary of State for Wales please contact Lynette Bowley on 02920 92 4204 or lynette.bowley@walesoffice.gsi.gov.uk
Image courtesy of Capt Gorgeous on Flickr
Published 9 September 2013