News story
Welsh Secretary sends message of support to the Royal Navy's HMS Daring as she heads towards the Philippines
HMS Daring is on her way to assist the Philippines after Typhoon Haiyan hit the country causing widespread devastation.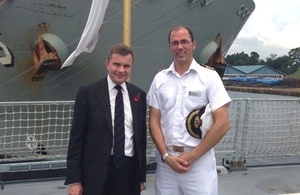 Secretary of State for Wales, David Jones met the crew of HMS Daring when she was alongside in Singapore last week. He has sent them this message of support.
"I very much enjoyed my brief visit to HMS Daring, and I thank you for your hospitality. My best wishes to all members of the ship's company.
"I see that you have been tasked with carrying out essential, though no doubt, distressing humanitarian work in the Philippines.
"I wish you all every success in what will be a demanding task, and I look forward to your safe return.
"David Jones, Secretary of State for Wales."
For further information on the work of HMS Daring in assisting the humanitarian efforts in the Philippines click here
Published 13 November 2013