Press release
Welsh Secretary: "Paris Air Show a showcase for Welsh aviation sector"
Secretary of State for Wales, David Jones will meet key players in the global aviation industry and promote the strength and innovative capabilities Wales has to offer at the Paris International Air Show today (20 June 2013).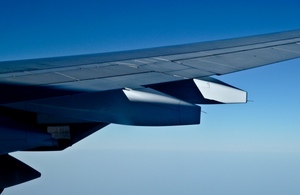 Le Bourget – now in its 50th year – is one of the world's biggest air shows and a showcase for cutting edge engineering and technology.
The Welsh Secretary's itinerary will focus on visits to companies with strong Welsh links, including Broughton based Airbus's parent company EADS and BAE Systems.
The visits come in the week that the strength of the aviation industry in Britain has been thrust into the spotlight. Already this week, Airbus has confirmed orders with aircraft financing group, Doric for the purchase of 20 A380 aircraft, signed a contract for 50 additional A320 with US aircraft leasing group ILFC, and completed an order with the Lufthansa Group for 100 A320 Family aircraft. Low-cost airline Easyjet has signed a deal to purchase 135 new Airbus aircraft, and Air France-KLM has finalised a firm contract for 25 A350-900.
The orders will strengthen the busy order book of the Broughton wing factory and secures the jobs of the 6,000 strong employee roster.
The Secretary of State's airshow itinerary will also include visits to the Aerospace Wales stand, Raytheon UK, Babcock, Thales, Hawker Beechcraft and a host of other SMEs who each have the unique opportunity to appear in front of the world's aerospace buyers, engineers and customers.
Secretary of State for Wales, David Jones said:
The UK aerospace industry is one of our greatest success stories and we're pulling every lever to ensure we remain at number one across Europe, fighting for every contract and every opportunity.
Government and industry need to work together to earn this success. That is why we have launched the Aerospace Industrial Strategy –a long-term strategic partnership to tackle barriers for growth, boost export opportunities and increase the high value of aerospace jobs across the country.
We want to make Britain the best place in the world for aerospace engineering, and Wales has a strong role to play in this aim.
Earlier this week, Business and Energy Minister, Michael Fallon attended the air show to announce that aerospace businesses are set to benefit from up to £90million of overall funding to develop new, advanced technologies.
Part of this is a £25million pot for small and medium sized businesses looking to get involved in collaborative research and technology projects that are consistent with the Aerospace Industrial Strategy.
Business and Energy Minister Michael Fallon said:
We have a world-leading aerospace sector underscored by our ability to excel in areas like research & development. It's this commitment to innovation through our Aerospace Industrial Strategy that will be a crucial driver for long-term growth.
If we are to get ahead of the game we must create the right conditions now that incentivise businesses to invest in the UK and develop new, exciting products. This new funding will help to do just that and also ensure a high level of quality projects receive the support they need to get off the ground.
Earlier this week, the Secretary of State for Wales visited the British Airways Maintenance Centre in the Vale of Glamorgan. The facility provides a dedicated service and maintenance facility for British Airways' fleet of Boeing 747, 777 and long haul 767 aircraft. It is responsible for virtually all of the maintenance and repair covering the entire fleet.
Notes to Editors
For further information, please contact Lynette Bowley at the Wales Office on 029 2092 4204
Aerospace Industrial Strategy
The Aerospace Industrial Strategy can be found at Lifting Off – Implementing the Strategic Vision for UK Aerospace, which was launched on 18 March by the Aerospace Growth Partnership.
Image to be attributed to UggBoyUgg Girl on Flickr.
Published 20 June 2013
Last updated 20 June 2013
+ show all updates
Added translation
First published.