News story
Welsh Secretary marks 'One month to go' Olympic Milestone
With only one month to go until the curtain rises on the opening ceremony of the London 2012 Games, Secretary of State for Wales, Cheryl Gillan…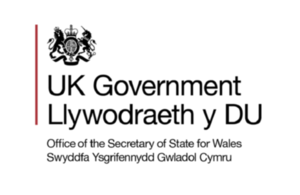 With only one month to go until the curtain rises on the opening ceremony of the London 2012 Games, Secretary of State for Wales, Cheryl Gillan is lending her support to the Welsh athletes already recruited to Team GB as they enter the final straights of their Olympic preparations.
Wales will be sending its largest ever contingent to the Games with 19 athletes already confirmed as TeamGB members.
These numbers are set to be bolstered by the inclusion of athletics specialists, Dai Greene and Christian Malcolm who achieved Olympic qualifying times at last weekend's British Olympic trials.
Moreover, Wales' Paralympics GB quota has already reached 24, with athletics and rowing teams still to be announced.
The one month to go milestone (27 June) also marks the opening of the newsdesk at the International Broadcast Centre (IBC) on the Olympic Park - a 24-hour media hub which will host up to 20,000 broadcasters, photographers and journalists and bring the Games to an estimated four billion people worldwide.
Cardiff-based manufacturer Euroclad is one of the many Welsh contract winners who have helped to bring the IBC to life. The company was recruited to manufacture and supply wall and roof cladding for this facility, as well as others on the Park.
It has used the opportunity to strengthen existing partnerships and develop new business opportunities as a result of their Olympic involvement.
Jon Dore, Executive Director of Business Development at Euroclad, said:
"Some people suggest all the focus is on London for the Olympics, and that the provinces are missing out. I disagree, especially when it comes to the massive effort contractors from all over the UK are putting in behind the scenes, and the good it will do them in the longer term.
"At Euroclad, we're pleased to be benefiting from the contract win to supply wall and roof cladding for the International Broadcast Centre.
"We've developed a wider network of industry contacts and built stronger ties with our existing partners as a result of our Olympic involvement. And we're not the only ones - I can't speak for the country as a whole, but several other suppliers and contractors from South Wales are playing major roles in making sure London 2012 is as good as it can be, and creates a fantastic legacy for people and businesses all over the UK."
Mrs Gillan said:
"With the countdown to the games reaching the one month mark, we get closer and closer to showcasing the very best that Wales has to offer in sporting talent and to highlighting the important contribution Welsh businesses such as Euroclad have made in helping to bring the games to life.
"Today signals the start of a period of intense preparations for Team GB as they look ahead to the start of the sporting spectacular. "The whole of Wales is ready to welcome the world to Cardiff when the competition kicks off at the Millennium Stadium and to support our athletes when they take to the London 2012 stage next month. I am looking forward to playing my part in that welcome."
Published 27 June 2012