Press release
Welsh Secretary launches latest revolution in security encryption
Welsh Secretary launches EADS' latest line in security encryption at DSEi show.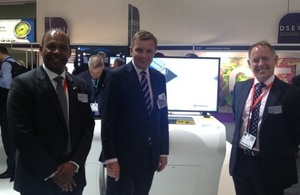 The Secretary of State for Wales, David Jones, has launched EADS' latest line in security encryption during the annual DSEi show today [Tuesday 10th September].
EADS Cassidian which is based in Newport, south Wales, has designed and created a product that can encrypt data for transfer over the public internet. The latest variant of this product is designed for the commercial market and is known as Ectocryp Yellow.
Mr Jones launched the product alongside the Head of Cassidian, Michael Stevens, at the Excel centre in London during the annual defence show DSEi 2013.
Secretary of State for Wales David Jones said:
Ectocryp Yellow is part of the technology base that puts the UK at the forefront of the transfer of secure information via the public internet.
The fact that it has the 'Made in Wales' stamp is something of which I am very proud of and demonstrates the highly skilled and effective workforce we have in Wales.
Michael Stevens, CEO Cassidian UK said:
The UK is considered a world leader in encryption technology. Cassidian UK, headquartered in Newport, South Wales, is at the forefront of this work and has established an impressive track record in network security working with government agencies to ensure Top Secret and sensitive information is delivered without being compromised.
Our working links with top Welsh Universities, the excellent local supply chain in Wales and proximity to other important security organisations all contribute to our success in this field.
During his visit to the event, the Secretary of State also took the opportunity to visit a range of other companies with strong Welsh links, including Raytheon UK and General Dynamics UK.
Notes to Editors:
Cassidian, the security and defence division of EADS, is a worldwide leader in defence and security solutions. The company delivers advanced defence systems along the whole action chain from sensors through command & control systems to combat aircraft and unmanned air systems. In the area of security, Cassidian provides customers worldwide with border surveillance systems, cyber security solutions and secure communications. In 2012, Cassidian – with around 23,000 employees – achieved revenues of € 5.7 billion.
Published 10 September 2013