Press release
Welsh Secretary impressed by Ebbw Vale regeneration efforts
Secretary of State for Wales, David Jones MP today (10 June) visited Ebbw Vale to see how significant plans to regenerate the area are progressing.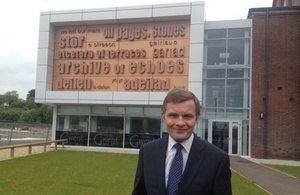 Ebbw Vale is just one of the areas set to benefit from a multi-million pound investment from the UK Government to electrify the railway network. The milestone announcement, made in July last year, revealed that the Great Western Main Line as far west as Swansea, and the whole of the Valley Lines network will be electrified, along with the Vale of Glamorgan Line.
Accompanied by Blaenau Gwent MP Nick Smith, Mr Jones saw how recent and planned investment in the area is developing. They first visited the proposed Circuit of Wales site in Rassau where he was briefed on the proposed plans to build the UK's first custom-built motor sport track.
The development, which is currently subject to planning consideration, is expected to provide significant sustainable local employment opportunities in the area in a broad range of sectors.
The party later travelled to The Works – a regeneration project which is transforming the site of the former steelworks in Ebbw Vale.
Mr Jones, who previously visited the site in 2010, was met by Project Director, Richard Crooks to be briefed on the progress made on this significant project. The party met at the General Offices– a building previously at the heart of the former steelworks which has now been transformed into a major visitor attraction.
Other developments on the site include a new hospital, low carbon housing developments, and a Learning Zone which is providing Blaenau Gwent's post-16 education in conjunction with Coleg Gwent.
Speaking after the visit, Mr Jones said:
I was delighted to have the opportunity to return to Ebbw Vale today and to see how these significant regeneration projects are benefitting communities in the area.
The Works in particular is a stellar example of a sustainable approach to regeneration and is a credit to the workforce in Blaenau Gwent. The whole project development has had the community at its heart, providing long-term jobs and areas for recreation, combined with environmental improvements and sustainable economic development.
It's important that regeneration projects invest in giving people a better quality of life and enhance the environment they live in. I look forward to seeing these projects I have seen and heard about today develop and reach more milestones in the coming months and years.
For further information, please contact Lynette Bowley at the Wales Office on 029 2092 4204 / lynette.bowley@walesoffice.gsi.gov.uk
Published 10 June 2013