Press release
Welsh Secretary holds meetings to discuss outcome of the EU referendum
Alun Cairns will meet North Wales business leaders and representatives from local government, higher education and the tourism sector to discuss the outcome of the EU referendum.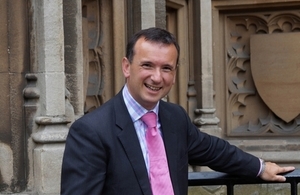 At the event held in Bangor University today (7 July), Alun Cairns will listen to their concerns about the referendum result and set out how the UK Government can help them prepare for leaving the European Union.
Last week the UK Government announced the creation of a specialist EU unit in the Cabinet Office to tackle complex issues like trade treaties and legal agreements
Alun Cairns said:
Businesses and other organisations in North Wales need reassurance that the path towards leaving the EU will be as smooth as possible and I am determined to do everything I can to help them adapt to changing circumstances.

I have been encouraged by comments made by business organisations in Wales that are responding positively to the challenges ahead and want to build on the strong economic foundations already in place.

As an integral part of the Northern Powerhouse, businesses and the higher education sector in North Wales need to maximise the potential of closer links with Northern English cities, and my aim is to support them so that the North Wales economy can continue to thrive.
Published 7 July 2016