News story
Welsh Secretary: Heathrow expansion
Secretary of State for Wales, Alun Cairns, shares his views on the Heathrow expansion.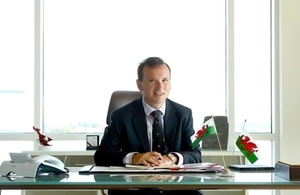 The Secretary of State for Wales, Alun Cairns, welcomed experts from the aerospace sector to Gwydyr House in London to celebrate their successes and discuss future opportunities.
The event took place on the day that the UK Government announced plans for a new runway at Heathrow.
Expanding Heathrow will better connect the UK to long haul destinations in growing world markets, boosting trade and creating jobs.
With Wales being the home to some of the worlds' biggest aerospace companies, this brings new opportunities for people in Wales.
Currently around 14,000 people are employed in the aerospace sector in Wales and with the new runway expected to create an additional 77,000 jobs over the next 14 years, this figure is expected to rise.
With the recent announcement of the new runway at Heathrow, the future of the aerospace industry in Wales looks certain. This is supported by the eight Welsh universities where there is a wealth of academic expertise applying itself to the aerospace industry, linking together to offer world class expertise and training.
Alun Cairns, Secretary of State for Wales said:
I'm delighted about the announcement to secure a new runway at Heathrow. This decision will have a major positive impact for Welsh businesses with access to new markets and trade.

A London hub can provide multiple daily connections to international destinations.

This is great news for Wales by broadening horizons through greater connectivity and ensuring that Wales is open for business.
Published 25 October 2016