Press release
Welsh Secretary welcomes Penderyn Distillery export success
Stephen Crabb: "Penderyn is an inspiration to entrepreneurs across Wales."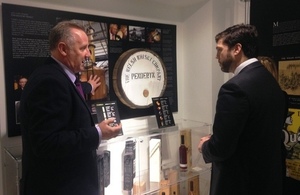 Welsh Secretary Stephen Crabb visited Penderyn Distillery in Brecon today (12 March) to see where one of Wales's most exciting products is made.
The Penderyn Distillery is the only one of its kind in Wales, and is one of the smallest in the world. The first distillation was made only 15 years ago and its single malt whisky was launched in 2004.
The Penderyn brand is growing both in volume terms and in recognition around the world, in France, Germany and Europe as well as new markets in Australia and Taiwan.
The distillery expansion project was completed last summer and helped the distillery increase production from 150,000 bottles of its single malt whisky a year to between 400,000 and 500,000.
Ahead of Welsh Tourism Week, Stephen Crabb saw the impressive visitors' centre that attracts 35,000 visitors every year.
Stephen Crabb said
Penderyn is a Welsh success story and an inspiration to entrepreneurs across Wales.

In just 15 years, this young company has shown what can be achieved when you combine innovation and ambition with a fantastic product and a strong Welsh identity.

Penderyn is a trailblazer for our food and drink industry, selling Welsh whisky in 16 countries and paving the way for other Welsh businesses to become export success stories too.

It is no surprise that thousands of people visit the distillery every year to see the quality of Welsh whisky and the strength of our food and drink industry.
The UK is the sixth largest exporter in the world - exporting goods and services worth £500 billion in 2013.
Since 2010, Welsh exports have increased by 17% to more than £13 billion last year,
Published 12 March 2015