Press release
Welsh Secretary: Apprenticeships are key to growth of UK economy
Wales Office supports National Apprenticeship Week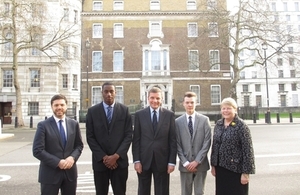 Secretary of State for Wales, David Jones has today lent his support to young apprentices as events take place across the United Kingdom to mark 'National Apprenticeship Week 2014'.
Like many businesses and other government departments, the Wales Office is committed to the apprenticeship system.
The Wales Office is currently expanding its own apprenticeship programme to six individuals.
Two of the apprentices have already started, whilst the remaining four are expected to join by the new financial year. Adam Dance, from Hertfordshire, is currently working in the Private Office and Laurence Basusi, from South West London, has joined the Corporate Services Team.
Secretary of State for Wales, David Jones said:
Addressing youth unemployment remains a key priority for the UK Government and apprenticeship schemes can help open the door to a long-lasting and successful career.

We need to make the most of all of our ambitious, talented and hardworking young people, and provide them with the helping hand they need to get on to the career ladder.

Both Adam and Laurence have already proven themselves to be a real asset to the Wales Office, and we look forward to welcoming our new apprentices to the Wales Office in the very near future.
Adam Dance,16, from Hoddesdon, Hertfordshire said:
From a young age I have had a strong interest in politics and have always dreamed of working within government. This has given me a real opportunity to learn from the ground up about how government works.
Laurence Basusi,22, from Mitcham in south London said:
I wanted to join the Wales Office as an apprentice because I believe it will give me the necessary skills and knowledge of working within a busy office environment. I hope to gain an NVQ and continue into a rewarding working career in either public or private service.
Published 3 March 2014