Press release
Welsh Secretary: Alun Lewis one of the most talented writers of his generation
Wales Office marks centenary year of birth of wartime poet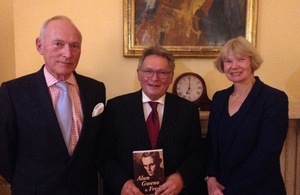 The Wales Office and Aberystwyth University have today (9 December) hosted a reception at Gwydyr House to mark the 100 year anniversary of the birth of Welsh poet, Alun Lewis.
Cwmaman born Lewis is widely considered to be one of the most significant Welsh writers of poetry and prose of the 20th century.
He won a scholarship to Aberystwyth University at the age of 17, where he would study History and achieve first class honours, before returning later to undertake his teacher training.
In 1940, he joined Royal Engineers where his experiences of conducting military service in India and Burma during the Second World War profoundly shaped his work.
Before his untimely death during service in 1944, Lewis enjoyed four years of literary acclaim, publishing a collection of poems entitled 'Raiders' Dawn' and a short story 'The Last Inspection'. A year after his death, a second collection of poetry, 'Ha! Ha! Among the Trumpets', was released which was followed three years later by a collection of short stories, 'In the Green Tree'. (1948).
The reception to mark the centerary of his birth was hosted by Vice Chancellor of Aberystwyth University, Professor April McMahon and was attended by Lewis' biographer, John Pikoulis.
Secretary of State for Wales Stephen Crabb said:
Alun Lewis was one of the most talented and most thought-provoking writers of his generation. His reflections of life and time spent in the military are vividly and authentically brought to life through his prose and continue to be read and studied by people all over the world.

The centenary of his birth is an opportunity to bring his important work to the fore once again and to be enjoyed by generations to come.
Prof. April McMahon, Vice-Chancellor of Aberystwyth University said:
We were delighted to be joint-hosts of this event today with the Wales Office and Seren Books. It is entirely appropriate that this event should be associated with Aberystwyth University and that our colleagues in the Institute of Literature, Languages and Creative Arts are co-sponsoring the evening.

Alun Lewis had a strong connection with Aberystwyth and with the University. Born in Cwmaman, near Aberdare, on 1 July 1915, he studied History at the then University College of Wales, Aberystwyth in the 1930s, where he published his first stories in the college magazine, The Dragon. Having graduated in 1935 with a First, Lewis pursued postgraduate studies in medieval history at Manchester University before returning to Aberystwyth in 1937 to train as a teacher.
Published 9 December 2015