Welsh Cavalry return from Afghanistan
Soldiers from the Welsh Cavalry received an emotional welcome home last week after completing a six-month deployment to Afghanistan.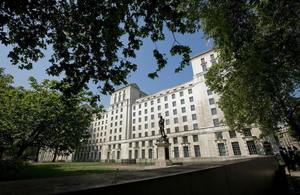 Over fifty soldiers from C Squadron of 1st The Queen's Dragoon Guards (QDG) were greeted by their families and friends when they arrived at their home barracks in Paderborn, northern Germany, on Thursday 19 April 2012.
The men and women of the QDG formed the core of 20th Armoured Brigade's Reconnaissance Force on Operation HERRICK 15 during its mission to help prepare the Afghan security forces to take over the security of their own country.
Warrant Officer Class 2 Mark Hawtin, from Tafarn-y-Gelyn, was greeted from the coach by his wife Catherine, and was delighted to see his one-year-old son Oscar walk for the first time. He said:
I'm chuffed to bits about being back; I am overwhelmed. It's great seeing Oscar, and I am looking forward to spending some quality time together as a family.
Sergeant Matthew Hausen, from Connah's Quay, was reunited with his wife Rebecca and daughters Isabel, aged seven, and Sophie, four, after completing his third tour of Afghanistan.
Speaking shortly before the coach arrived at Paderborn, Rebecca said:
I have been looking forward to seeing [Sergeant Hausen]. I'll be very relieved when he gets off that bus.
The kids have been absolutely excited for days now. We have been doing a countdown. They keep asking 'how many more sleeps before he gets back?'
The welfare facilities while he's been away have been fantastic. I also have a lot of friends in the same position - so we are practically a family.
Corporal Gareth Roberts, from Newport, was reunited with his wife Calais and sons Kieran, aged eight, and one-year-old Kayden after returning from his second tour of Afghanistan. He said:
It's great being back, and brilliant to see the children again. I missed Kayden's first birthday, so I am looking forward to making up for the time I haven't seen him. I can't wait to spend some quality time together as a family.
Calais Roberts added:
I have been looking forward to seeing him again; I am so proud of everything he achieved out there. Kieran didn't know that daddy was coming back today; he thought we were here for a family day. It was an exciting moment for him.
Task Force Helmand's Brigade Reconnaissance Force is designed to be able to operate in any of the roles found in theatre and has deployed on missions during the past six months in heavily armed Jackals, and out of the back of Warthog tracked armoured vehicles.
Commanding Officer of the QDG, Lieutenant Colonel Jasper de Quincey Adams, said:
This homecoming is the culmination of a two-year journey, from receiving our task to delivering it, from the start of our training to returning home.
The Welsh Cavalry have done a fantastic job. They are hugely brave and have achieved everything we asked of them.
We have also had a fantastic Rear Operations Group that have looked after the home base and our families while we were away. Now we need to invest in the soldiers and their families and allow them to enjoy their leave together.
The men and women of the QDG will receive their Operational Service Medals during a special ceremony in May, and will now start a period of well-deserved post-tour leave.
Published 25 April 2012