Press release
Welsh businesses told 'Exporting is GREAT' – and it will help your business grow
UKTI launches most ambitious export campaign to date.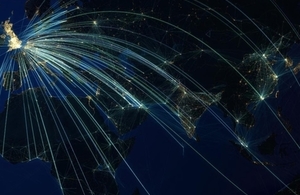 Welsh companies are to benefit from a unique new five year national campaign that will present real-time export opportunities businesses can apply for instantly, in a move to get 100,000 additional companies exporting by 2020.
Exporting is GREAT – part of the world-renowned GREAT campaign – is the UK's most ambitious export campaign to date. For the first time, it will present real-time export opportunities across media outlets and digital channels to businesses - of all sizes, from across sectors and every region of the UK - that they can apply for immediately. The platform will go live with hundreds of business opportunities, which will be available here. Around 1000 more will come online each month.
Coinciding with the launch, a series of events will be held across the UK as part of Exporting is GREAT Week. These are aimed at more experienced exporters as well as those that are about to begin their journey. In Wales this will be ExploreExport an all day event taking place at Cardiff's SWALEC stadium on Thursday 12 November 2015.
The campaign will provide advice and expertise to support businesses at every step on their exporting journey, from initial interest to selling in-market. This will include a year-long Exporting is GREAT roadshow that will travel the length and breadth of the country giving face-to-face assistance to first-time exporters using the latest technology to connect businesses with live export opportunities.
Companies will also have the chance to visit the Export Hub truck, which will be touring across Wales in February 2016.
Through the campaign businesses will also benefit from strong commercial partnerships: increasing the supply of available trade opportunities, providing offers and discounted services to SMEs.
Secretary of State for Wales Stephen Crabb said:
From Penderyn Whisky to BCB International, home grown business success on a global stage show just what can be achieved when innovation and ambition are combined with a fantastic product and a strong Welsh identity.

The potential for companies of all sizes to reach out to new customers and lucrative new markets beyond the UK has never been greater. We are committed to continue working with the Welsh Government and UKTI to ensure that Welsh businesses realise this potential, and help put Wales on a sound path to becoming a beacon of exporting success.
Welsh Economy Minister Edwina Hart said:
Developing new export markets for Welsh businesses is vital to our plans to create economic growth and jobs. Since 1999 the value of exports from Wales has more than doubled and is currently worth an estimated £11bn annually to the Welsh economy and the long term trend for Welsh exports is very positive.

We want to build on this success by supporting even more Welsh businesses at all stages of their export journeys, to increase trade and explore new markets. Working with UK Trade and Investment, and building on the success of previous event, we have developed the programme for this year's ExploreExport with exactly those goals in mind.
Notes to editors:
Exporting is GREAT is the government's most ambitious export campaign ever. It aims to inspire and support 100,000 additional UK exporters to sell their goods and services overseas by 2020. The campaign's mission is to turn the UK into the world's greatest exporting nation, capturing the imagination of the public, boosting business confidence and national pride and empowering more UK companies to go out and succeed in global markets.
Every day in every country around the world, there is someone somewhere who wants or needs a UK product or service. The demand is out there, you could be too.
To find out more, click here
The first phase of the campaign will run across the UK from 8 November 2015 to March 2016 and include TV, digital, radio, outdoor, and press advertising. The campaign includes a series of films that feature high profile entrepreneurs, international business owners and export champions demonstrating the global demand for UK products and services.

Online help is available via www.exportingisgreat.gov.uk. The site is designed to engage, direct and support businesses that have responded to the campaign. Every user's data will be captured for relationship management (CRM) and evaluation purposes. From day one, first-time exporters can register their interest in live trade opportunities, access support to export, find out more about Exporting is GREAT Week events and the Exporting is GREAT roadshow and sign up for our essential guide to exporting.

UK Trade & Investment (UKTI) is the government department that helps UK-based companies succeed in the global economy. We also help overseas companies bring their high quality investment to the UK's economy – acknowledged as Europe's best place from which to succeed in global business. UKTI offers expertise and contacts through its extensive network of specialists in the UK, and in British embassies and other diplomatic offices around the world. We provide companies with the tools they require to be competitive on the world stage.
Published 10 November 2015