News story
Welsh army reservist teaches president a lesson
Two of the world's most powerful men dropped in on a lieutenant's lesson about NATO yesterday.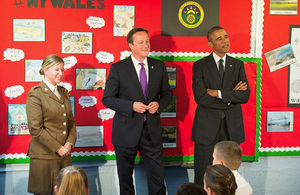 On Monday evening, army reservist Lieutenant Rachael Broughton received a seemingly straightforward call from the adjutant of her unit. Would she be available, he wanted to know, to teach a lesson later in the week to primary school children about NATO?
It was only after she had agreed to talk to the year 6 pupils at Mount Pleasant Primary School in Newport that she was told that US President Barack Obama and UK Prime Minister David Cameron would be dropping by.
Rachael, who works in army reserve recruitment in her civilian life, serves with the Welsh Transport Regiment in south west Wales. She was chosen to teach the lesson following a NATO workshop for young reserve officers in Fulda, Germany, last month.
She said:
I was in the middle of my lesson when the President and Prime Minister walked into the classroom, but it didn't throw me off my stride because they were so down-to-earth and relaxed.

I introduced them to the children and they listened to the lesson, before asking some questions of their own.
Mr Obama and Mr Cameron then invited the children to ask them anything they wanted. Rachael remarked:
I think they were a little taken aback by the calibre of the questions, which ranged from Ukraine and Syria to the relationships between the heads of state.
Since joining the reserves 5 years ago, Rachael has had the opportunity to get involved in many things that she would once have never thought possible.
As a result, not only has she gained her teaching qualifications in the Army Reserve, she has also worked at the 2012 London Olympics, led a team in the gruelling Cambrian Patrol march and skied for her regiment in Germany.
She said:
As well as the qualifications and skill sets the army has given me, I have been fortunate enough to take advantage of the many fantastic opportunities on offer too.

I would never have dreamed that through my reserve career I would be meeting President Obama and the Prime Minister.
If Rachael's experience has made you consider a life in the reserves, visit the service reserves websites today:
Published 5 September 2014