World news story
Welcome to the website of the Embassy
This website will provide you with information on the relationship between the UK and Turkmenistan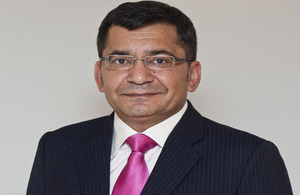 It is my pleasure to welcome you to the website of the British Embassy in Ashgabat, Turkmenistan. This website will provide you with information on the relationship between the UK and Turkmenistan, as well as services the Embassy can offer to British citizens and also Turkmen nationals looking to visit the UK.
I arrived in Turkmenistan on 5 December 2013, and presented my credentials to His Excellency the President of Turkmenistan, Gurbanguly Berdimuhamedov, on 17 December. Central Asia is a region rich in culture and history, and is a fascinating place to live and work. I would encourage visitors to this website to learn more about Turkmenistan and the region.
Turkmenistan is important to the UK for a number of reasons. It is recognised as having the world's fourth largest reserves of natural gas, so is important to the UK and Europe for energy security. And the energy sector does of course present opportunities for UK companies to share their knowledge and expertise as Turkmenistan develops and diversifies its hydrocarbon sector. Indeed, there are growing opportunities for British companies to work here in infrastructure, education and skills and in the sports field, particularly as Turkmenistan will host the Asian Indoor and Martial Arts Games in 2017. Turkmenistan is increasingly open to partnerships which help address its economic and developmental needs.
An equally important area of our work is to encourage progress on the development of international standards on human rights, democracy and good governance. In this respect, the British Embassy sponsors several projects implemented by UNDP in Turkmenistan, including projects on "Enhancing electoral system and processes in Turkmenistan" and "Strengthening the national capacity of Turkmenistan to promote and protect human rights".
Turkmenistan is also strategically located on the eastern shore of the Caspian Sea and with long borders with Afghanistan and Iran. On Afghanistan, we welcome the constructive role played by Turkmenistan through humanitarian and other assistance provided to the country.
Turkmenistan is a country of which we will hear a lot more in the UK in coming years. I hope this website will help to orient you in your initial encounters with the country. My team and I are ready to assist you further with queries that you may have.
Thank you and best wishes.
Sanjay Wadvani OBE HM Ambassador
Published 23 December 2013