News story
Welcome to the new home on the web for the Department of Energy & Climate Change
Find out how DECC content is organised on the GOV.UK website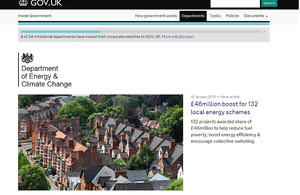 DECC has now moved its content to the new GOV.UK website joining our colleagues from FCO, BIS, MoD, DCLG and DfT. All remaining ministerial departments are due to move over in the first few months of 2013.
Current content from the old DECC website has been transferred and organised into the following policy priorities, with supporting pages:
Our news articles, publications, statistics, consultations and corporate information have also been transferred and you can find these using the search box on the top right of the page.
The previous version of the DECC website is available on the National Archives website.
You can follow us via Twitter, You Tube, Flickr and the DECC Blog. You can also sign up for email alerts.
Published 22 January 2013