World news story
Welcome home Chevening 2017 Graduates from Uzbekistan
Our class of 2017 Chevening scholars have returned to Tashkent after spending a year in the UK.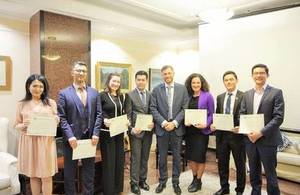 Our Class of 2017 Chevening Scholars have returned home after spending a year in the UK where they studied hard, built networks for their future careers, and acquainted themselves with British culture.
Our Embassy in Tashkent celebrated their return by throwing a welcome home event. Our newest cohort of Chevening Alumni showcased what they have learnt in the UK, received their Chevening completion certificates and were welcomed into the Uzbekistan alumni community.
This next stage of the Chevening adventure is an opportunity for the new alumni to make a difference. As His Excellency, Mr. Chris Allan, the British Ambassador to Uzbekistan, reminded the nation's returning scholars:
Our aim is to give Uzbekistan's high achievers the support they need to realise their potential to the full – to help build a more prosperous Uzbekistan.
Published 2 March 2018