News story
Webinar - 27 Feb - Avoiding late payment issues
Tuesday 27 February, 12:30 - 1:00pm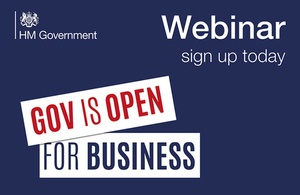 Paul Uppal, a former MP, was appointed as the government's small business commissioner in October 2017 with a brief to help small companies deal with late paid invoices by larger businesses.The role is aimed at preventing disputes occurring in the first place and building the confidence and capabilities of small businesses to assert themselves in contractual disputes and negotiate more effectively. Small business owners will be able to complain to the commissioner about a late payment issue and he will be able to publicly publish reports sharing his findings and response.
In this webinar, Paul will outline the role and take your questions. Tune in to understand how you can avoid late payment causing cashflow issues in your business.
Click here to register.
Published 12 January 2018