News story
Webinar - 14 March - Tips for selling to the public sector
Wednesday 14 March, 12:30 - 1:00pm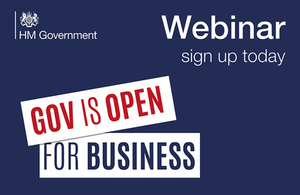 Stephanie Staubach is Managing Director of TopMark Claims Management Ltd; a company that has successfully sold its claims solutions service into the public sector via contracts with national government and Local Authorities across the UK.
In this webinar, Stephanie will offer her secrets to success in selling to the public sector, including tips on how to look for opportunities and produce effective bids. Stephanie also sits on the government's SME Panel, representing the views of entrepreneurs when it comes to forming policy on ensuring central government spends £1 in every £3 with SMEs.
Click here to register.
Published 12 January 2018