News story
Webinar - 11 July - Meet the Buyer - The Department for Work and Pensions
From:

Part of:

Published:

15 June 2017
Tuesday 11 July, 12pm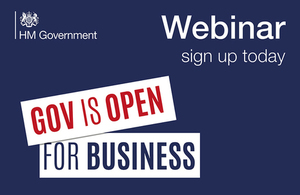 The Department for Work and Pensions (DWP) is the largest government department in the United Kingdom, and is responsible for welfare and pension policy. In this webinar, hear from Claire Thomas and Zara Carter on how to sell your products and services to the work & health category of DWP, with a particular focus on mental health and wellbeing.
Join us to understand:
How and where DWP advertises contract opportunities
Spending trends on wellbeing and mental health
Top tips on securing work via frameworks
How to come to the attention of government buyers at DWP
Click here to register.