Wearing of Christian symbols at work
Eric Pickles, Secretary of State for Communities and Local Government, responds to misleading media reports that the Government favours banning…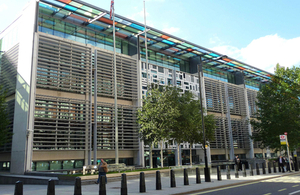 Eric Pickles, Secretary of State for Communities and Local Government, responds to misleading media reports that the Government favours banning the wearing of Christian symbols in workplaces.
We should be concerned about any move to strip individuals of their right to celebrate who they are. For some Christians, wearing a crucifix or cross or carrying a rosary is very much part of their faith, although it is a personal choice and not a formal requirement of their religion.

The issue is not whether faith perspectives and religious voices should be included and tolerated in the public sphere, for that right is incontestable, but the manner in which such a right is exercised and any restrictions that may be necessary to impose on that right.

It is reasonable, and lawful, for Christians to wear a discreet symbol of their faith as long as this does not get in the way of their work. Indeed, given the massive contribution of Christians to our country over centuries, it is to be welcomed.

Where religious symbols do not physically interfere with a person's work but employers have instituted dress codes prohibiting them, employees have good grounds to ask for the code to be reconsidered. We urge employers to be flexible.
Published 16 April 2012