"We want to see Albania making real progress towards EU membership"
Prime Minister David Cameron and Minister for Europe David Lidington met Albanian President Topi today in London.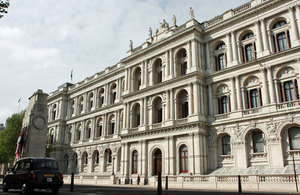 The Prime Minister and Minister for Europe praised Albania's important contribution to the International Security Assistance Force (ISAF) mission in Afghanistan and confirmed the UK commitment to enlargement for the Western Balkans.
The Minister for Europe and the President discussed Albania's EU progress. Mr Lidington stressed that the UK remains a strong supporter of Albania's EU ambition. He hoped that whatever the recommendations on Visa Liberalisation and Albania's readiness for candidate status next week were, Albania's political leaders would seize the opportunity to accelerate reform.
The Minister for Europe said:
"We want to see Albania making real progress towards EU membership. That progress, to date and in the future, will depend on all parties working together to implement vital reforms. Success on the EU track is not about scoring political points, it's about compromise and constructive political and public engagement on issues that matter to all."
He welcomed the continuing close co-operation in tackling organised crime. He noted that judicial reform was an important part of that and welcomed the President's commitment to the reform effort.
Published 3 November 2010