World news story
Wave Knight joins Grenada for 40th Independence Celebrations
This was published under the 2010 to 2015 Conservative and Liberal Democrat coalition government
RFA WAVE KNIGHT took some time off from her usual APT(N) duties and made a hard-earned and much anticipated port visit to Grenada.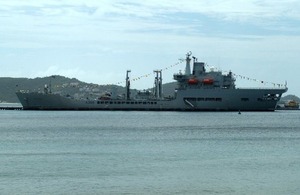 The visit was to coincide with the 40th Anniversary of Grenadian Independence.
RFA WAVE KNIGHT secured alongside the berth at Melville Pier at 0800hrs on the 5th February. That evening saw an Official Reception hosted on the bridge of RFA WAVE KNIGHT by Captain DL Lamb and Ship's Officers in conjunction with the FCO .The reception turned out to be a success and was much enjoyed by Officers and the many Guests.
On the 6th of February the Commanding Officer Captain DL Lamb along with Second Officer I Johnson made an official call on Mrs Maureen Strachan the manager of the Dorothy Hopkins Centre. RFA WAVE KNIGHT has engaged in a strong liaison with the centre and it was 5 months to the day since the ship last visited Grenada and the centre. On the previous visit 16 members of the Ship's Company and embarked USCG personnel made up a working party that carried out much needed work which enhanced the residents' facilities and comfort, in the form of painting and making a number of essential electrical repairs.
On the 7th February the Captain of RFA Wave Knight along with a contingent of the ships company were invited to attend the ceremonies at the Grenada National Stadium in the capital city, St George's. There they observed the country's celebrations marking 40 years of Independence. The ship's company were provided with prime seating within the VIP area. Also present at the stadium were: the Island's Governor General, Prime Minister, British High Commissioner and a number of foreign dignitaries.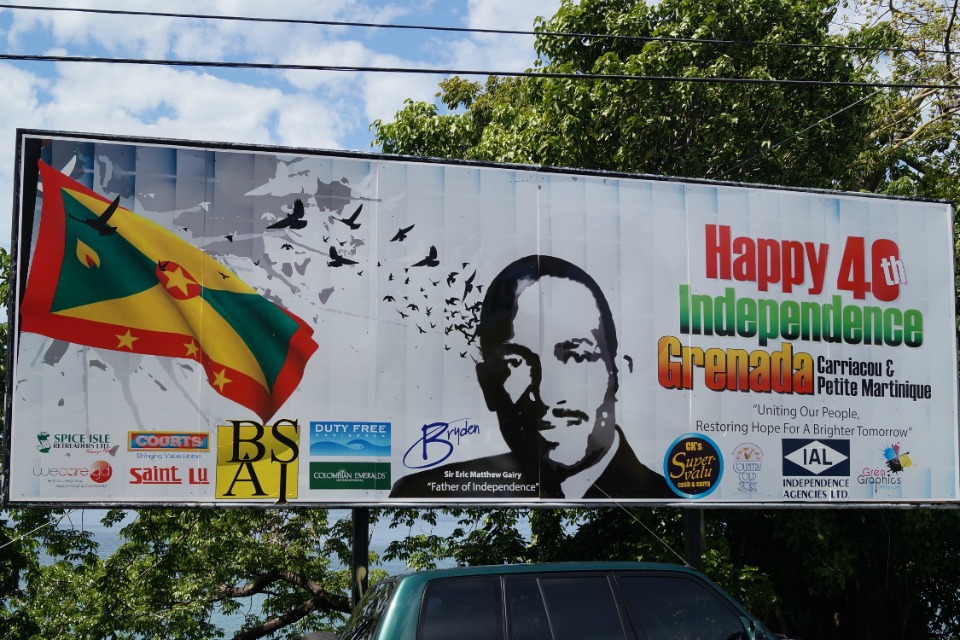 The event itself included marching displays by the Royal Grenada Police Force (RGPF) Band, Special Services Unit, RGPF Uniformed Contingent, Grenada Coastguard and a number of other youth and voluntary organisations. These units were formally inspected by the Governor General prior to the Prime Minister making a speech to mark the occasion. At the conclusion of the parade there were a number of cultural displays within the stadium and various stands promoting and selling local goods outside the stadium. The ships company thoroughly enjoyed the event with festivities continuing into the night including singing, music and dancing in the streets throughout the Capital St Georges.
RFA WAVE KNIGHT's Commanding Officer Captain DL Lamb said "it was an honour for RFA WAVE KNIGHT to have been able to host a reception and join in with the landmark anniversary celebrations. The Ship's Company certainly enjoyed their stay and the friendly hospitality given to them by the local community and were firmly impressed with the unique and colourful atmosphere generated during the celebrations'
View more photos on Facebook
Document information
Published: 21 February 2014