Press release
Waste operator to pay £19,000
Barry Patchett, a waste operator from Louth, has been fined £1,000 and ordered to pay more than £18,000 costs for running an illegal site.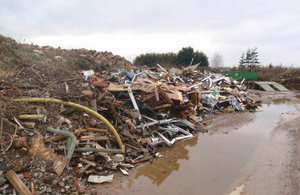 Patchett, aged 53, failed to apply for the right permits despite advice and guidance from the Environment Agency in 2010 and 2013.
Forced entry to site
Mr Richard Banwell, prosecuting for the Environment Agency, told Lincoln magistrates court yesterday (Wednesday 3 December) that no application had ever been received and several failed attempts were made by officers to carry out a full site inspection.
In the end a forced entry was made in September 2013 with the assistance of Lincolnshire Police.
Officers found more than 9,000 tonnes of waste on the land at Tetney Lock Road, New Delights, Tetney, Grimsby, including demolition materials and green waste.
Patchett, of Firebeacon Lane, Wragholme, and his company, BJ Patchett & Sons Ltd, were asked to attend an interview but they declined. The company had gone into liquidation.
Early this year (February 2014) it appeared that more waste had been deposited at the entrance and a rubble pile had grown.
Mr Banwell said:
The offence was committed over several months and it was financially motivated because the waste operation was part of his business. Mr Patchett also failed to respond to advice or to clear the site as requested.
Patchett had pleaded not guilty at an earlier hearing but changed his plea to guilty yesterday, the first day of a 3 day trial.
Mitigating for Patchett, Mr John Wyn Williams said that Patchett had been confused by environmental regulations which are complex and Patchett thought his waste facility was compliant. This was also his first environmental offence.
In sentencing, District Judge Stobart said it was not a case deserving the severest penalty. Patchett may have given too little time and thought to the requirements but he knew he had to make changes in order to keep his waste site running.
Following the sentencing guideline for environmental offences, and taking into account Mr Patchett's means, District Judge Stobart fined him £1,000 and ordered him to pay full prosecution costs of £18,334.
After the hearing Environment Agency officer Toni Storr said: "Waste crime is a serious offence. It can damage the environment, blight local communities and undermine those who operate legally."
Patchett pleaded guilty to the following charge:
Between 2 October 2012 and 14 February 2014 on land at Tetney Lock Road, New Delights, Tetney, Grimsby, Lincs you did operate a regulated facility, namely a waste operation for the deposit and storage of waste, without being authorised by an environmental permit granted under Regulation 13 of the Environmental Permitting (England and Wales) Regulations 2010.
Contrary to Regulation 12(1)(a) and 38(1)(a) Environmental Permitting (England and Wales) Regulations 2010.
Published 4 December 2014