Warthogs cover distance of around world in 80 days on Helmand operations
After 80 days in Afghanistan, the Operation HERRICK 14 Warthog Group has travelled a distance equivalent to circumnavigating the world.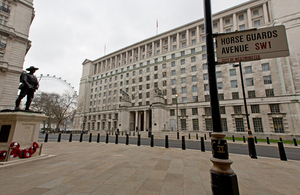 The Royal Scots Dragoon Guards' (SCOTS DG) Delta Squadron Warthog Group has been in Afghanistan for 80 days, covering, in that time, 41,000 km (or 25,625 miles) with their all-terrain vehicles; the equivalent of circumnavigating the globe, or making the journey overland from Camp Bastion to Edinburgh five-and-a-half times.
Warthog entered operational service in Afghanistan with D (The Green Horse) Squadron, The Royal Dragoon Guards, in October 2010.*
Corporal David Toughill, Warthog Vehicle Commander, said:
Phileas Fogg did it in 80 days using loads of different modes of transport, we've done it in one. There have been a few hairy moments, but so far [it has been] a good tour. The vehicles are very agile and can carry a lot, which means we can stay in the desert for weeks - it's a bit like camping at times.
The Warthog Group is constantly in demand, and every day is different for them - this is because their vehicles are multi-terrain and can operate anywhere, from the dense vegetation of the Green Zone to the arid plains of the Afghan desert - where the Group recently spent over six weeks on one operation.
The vehicle's mobility allows Task Force Helmand to reach previously inaccessible areas of enemy activity and deny insurgents safe havens from which to regroup and launch operations.
Corporal Steven McCuaig, Warthog Vehicle Commander, said:
Every day is different, which can be great as it keeps you on your toes but also frustrating as you never know when the plans are going to change. Working with the Afghan National Army (ANA) has been really interesting. We work closely with them, offering support and advice, and conducting partnered operations.
D Sqn is made up of 119 officers, soldiers and interpreters from the SCOTS DG, Royal Electrical and Mechanical Engineers (REME), The Royal Artillery, The Royal Corps of Signals, The Royal Yeomanry, the Royal Navy and the Task Force Helmand Labour Support Unit.
Working independently as an armoured Squadron, but also closely with the Brigade Reconnaissance Force (BRF), the Warthog Group was likened, by Commander 16 Air Assault Brigade, to the Long Range Desert Group, operating for prolonged periods in the middle of some of the most inhospitable terrain on earth.
Captain Rob Durling, a Forward Air Controller serving with 29 Commando Royal Artillery, attached to the Warthog Group, said:
As the Warthog Group we are used for far-reaching patrols into the desert, and are different to other units because we can live off our vehicles for weeks.
We've had really good interaction with the local people and relationships are good. It's small steps here, but the ongoing development projects and improving security situation are all reasons to be positive.
From seeking out insurgents in their secret hide-outs, to providing security for protected communities, the Warthog Group continues to build and extend security in support of the Afghan National Security Forces. Much of their time is spent mentoring and advising the Afghan Army to build up their own capabilities.
REME Recovery Mechanic Corporal Brett Wade said:
I was working out of Camp Bastion before I got attached to the Warthog Group. It's far more interesting out here because I get to work alongside Afghans. I've picked up a few words now, so can communicate on a basic level.
"I've had a really enjoyable tour, the Warthog is a new vehicle to me but I've got round it quickly. It's enjoyable to command and drive and we certainly see a lot of the country".
Major Jonnie Williamson, Officer Commanding the Warthog Group, added:
We use Warthog exactly as we would Challenger 2 tank or Combat Vehicle Reconnaissance (Tracked) or CVR(T). Firepower, mobility, and protection allow us to close with the enemy in areas where he previously moved with impunity.
We're also able to spend weeks at a time out and about living out of our vehicles and reassuring local people and deterring insurgents. These are tasks traditionally delegated to Challenger 2 regiments and tasks with which we are very comfortable.
The Warthog vehicle is manufactured by Singapore Technology Kinetics and used by the Singaporean Armed Forces as BRONCO.
D Squadron first saw the Warthog vehicle in Bovington when they conducted driver, operator and maintainer courses prior to live firing exercises in Castlemartin and the final pre-deployment training on Salisbury Plain early in 2011.
The Royal Scots Dragoon Guards, Scotland's senior regiment and only regular cavalry, is based in Fallingbostel, northern Germany, and forms part of 7th Armoured Brigade, The Desert Rats.
The SCOTS DG has been attached to 3 Commando Brigade since early 2011 and D Squadron will return to Germany in mid-November where, following a period of post-tour leave, they will return to training on their familiar Challenger 2 main battle tanks.
The 2nd Royal Tank Regiment's Badger Squadron was previously, and incorrectly, credited in this story as having been the first Army unit to work with Warthog in Afghanistan. It was, in fact, D Squadron from The Royal Dragoon Guards that, from October 2010, traded its Vikings for Warthogs, and dealt with the task of ironing out the various inevitable teething problems encountered when introducing a new vehicle to front line service.
Published 1 August 2011