Warrant Officer notches up 8,000 flying hours
Warrant Officer John Sheldon from Royal Naval Air Station Yeovilton has clocked up an amazing 8,000 flying hours, the equivalent to flying for 333 days.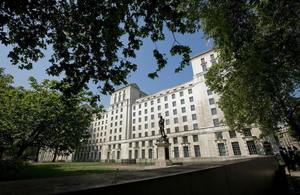 A Warrant Officer aircrewman from the Commando Helicopter Force (CHF) based at Royal Naval Air Station (RNAS) Yeovilton has notched up a remarkable aviation achievement.
Warrant Officer Class 1 John Sheldon of 848 Naval Air Squadron (NAS) has logged 8,000 flying hours, the equivalent of an unbelievable 333 days airborne, and he doesn't intend to hang up his flying boots just yet.
WO1 Sheldon joined the Royal Navy as an Engineering Mechanic Air in 1968, working on a variety of naval aircraft at sea and ashore. But an interest in flying saw him selected for aircrew training at the Aircrewman School, then at RNAS Portland in Dorset, in 1972, heralding the start of his flying career in Wessex helicopters with 771 NAS.
Since then he has flown every type of Service helicopter in the UK forces and a few more outside. Not content with flying Royal Navy helicopters WO1 Sheldon also had a spell with the RAF serving as a Master Air Loadmaster on Chinooks until rejoining the Naval Service through the Royal Naval Reserve Air Branch.
Some of the highlights of his flying career have been with the 'Junglies' squadrons. During the Falklands War in 1982, he embarked on HMS Hermes and HMS Fearless with 846 NAS at very short notice, and while sailing south had to learn to use the new night-vision goggles.
WO1 Sheldon said:
We had nothing to work on; none of the cockpits were configured for night-flying with the goggles. Everything was developed on the journey south; we went on to fly with them on all the operations over the Falklands.
He recalled:
Another time we were flying near Mount Kent, dropping off ammunition for the army guns. I heard over the radio that four Argentinean jets were in the area. I looked back and saw them coming down in two pairs. They passed over us, but we'd started our evasion procedures.

As we broke they fired on us, by this stage we'd got to Forward Operational Base Teal and landed. The pilot, Alf Tupper, and I got out of the aircraft with its general purpose machine gun and started to make a brew, as you do.

It was then the pilot noticed a 30mm cannon had knocked a hole through the main spar of a blade; we were lucky it didn't break clean in two before we landed.
Having started on the Westland Wessex WO1 Sheldon now flies the Sea King Mk4, logging nearly 4,000 flying hours on this aircraft over his time.
He's also flown every type of Merlin, Chinook, Lynx, Gazelle and many smaller aircraft that have passed through the MOD's Aircraft Test and Evaluation Centre at Boscombe Down in Wiltshire, where he worked as both a Royal Navy and RAF Warrant Officer:
One of my best times as an aircrewman was during the first Gulf War in 1991 with 848 NAS. We were formed at very short notice and I was given the job as chief aircrewman and told to find all my aircrewmen from around the fleet.

Being a chief aircrewman at war was exhilarating and a lot of responsibility; I had a great bunch of aircrewmen to work with and saw some incredible things.
Captain Matt Briers RN, Commanding Officer of the CHF, presented WO1 Sheldon with a special memento and said:
The life of a Junglie aircrewman is tremendously demanding. Warrant Officer Sheldon is an outstanding individual and aircrewman who has flown a large variety of helicopters in terrain ranging from the Arctic to the tropical jungle.

During this time he has amassed over 8,000 hours of flying, an achievement that is nothing short of remarkable. 848 NAS are now the lucky beneficiaries of his vast experience which he is imparting to the new breed of pilots and aircrewmen that are learning their trade around the skies of Somerset.
Published 10 September 2012