Warrant Officer helps make Mastiff a Helmand hero
Discuss the pros and cons of the British Army's Mastiff armoured patrol vehicle with serving soldiers and you would be hard pushed to find any…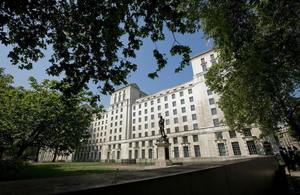 Discuss the pros and cons of the British Army's Mastiff armoured patrol vehicle with serving soldiers and you would be hard pushed to find any dissenting voices.
From its unrivalled blast protection to its suite of hi-tech gadgetry, the six-wheel-drive beast's combination of power and precision has made it an operational favourite.
But its popularity with troops is no coincidence. Since the British military first enlisted US firm Force Protection's Cougar and asked NP Aerospace to adapt it, one serviceman has been at the heart of the mission to make Mastiff a HERRICK hero.
Warrant Officer Class 2 Darren Hugill, Urgent Operational Requirements Warrant Officer at the Defence School of Transport's Advanced Training Wing, leads the team responsible for teaching crews how to use the vehicles.
And such is his intimate knowledge of the platform, WO2 Hugill is known throughout the Army - and beyond - as Mr Mastiff:
It's not a title I've given myself, but I'm very proud of it," he said. "When I was first given the opportunity to work with the US Cougar, I grabbed it by the horns.

These vehicles won't win the battle, but they will help save a lot of lives. They might not have the firepower of a Warrior or a Challenger 2, but the level of protection they offer is massive.
There has not been a single fatality in one to enemy action in theatre and that proves the survivability is second-to-none.
WO2 Hugill and his team of nearly 40 senior non-commissioned officers bring crews up to standard on the Cougar family, which includes variants such as the Wolfhound and St Bernard, using the very latest feedback from theatre.
The experienced soldier wrote the original teaching programme for the Mastiff and regularly deploys to Op HERRICK to refresh his understanding and see if he can make any improvements.
Mr Mastiff's interest does not stop with the training package; his knowledge of the armoured vehicles has helped him to generate a host of money-saving and potentially life-saving modifications.
From simple additions such as extra stowage spaces and heel plates and foot rests to give drivers a more comfortable ride, to a new system to stop expensive external cameras being broken, he has played an integral part in the vehicle's continued evolution.
The result is a platform that WO2 Hugill believes has won Service personnel over after it received some short-lived early scepticism when it first rolled into action:
When it initially went into theatre, soldiers didn't want to get in it because the feeling was that it was just a truck," he said.

After a couple of months the lads knew they were safe as houses inside and now it's the vehicle of choice.

They can do incredible things and the guys really appreciate that.

We have seen vehicles that have taken 20 hits but are still going after repairs. Yes, they are expensive, but what price do you put on a soldier's life?
With another fact-finding mission to Afghanistan scheduled, WO2 Hugill's dedication to the vehicle is constantly put to the test.
But despite the long hours and heavy workload, Mr Mastiff is showing no signs of relinquishing his title:
I absolutely love my job - it's the best I have ever had in the Army," he concluded. "There are people who don't want me to ever leave this post because there is nothing I don't know about it.
This article is taken from the September 2010 edition of SOLDIER - Magazine of the British Army.
Published 2 September 2010