Press release
Warning to Bridgwater homeowners after culvert damage found
Environment Agency issues warning after a regular cleaning of a culvert spotted damage from above in Somerset.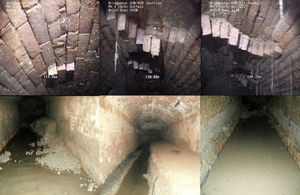 A periodic clean-up of water-carrying tunnels beneath Bridgwater in Somerset has reduced flood risk to numerous properties – but spotted problems being caused by homeowners above ground.
The culverts – narrow, cramped underground passages – are cleared when blockages occur. But between every six and ten years they are inspected. Unlike the large dredging works recently delivered on the rivers Tone and Parrett, culvert cleansing is not visible but keeping culverts fully functional is rewarded by reducing flood risk.
The most recent inspection removed 320 tonnes of silt from a 470m subterranean passageway under Old Taunton Road.
However, the Environment Agency's contractor noticed damage in certain sections of the culvert– likely to have been caused by unwary culvert owners above.
John Rowlands of the Environment Agency said:
Although not of great concern at the moment, we will monitor the culvert condition.

If it worsens or there is new damage we will inform the appropriate landowner.
Homeowners own sections of culvert that run under their land to the point it leaves. As owners, they are responsible for maintaining them. Culverts can collapse and cause the ground above to subside if they not maintained properly.
The Environment Agency work ensures that the 80 miles of culvert in Bristol and Somerset has the capacity to pass water, but is not responsible for the structure of the culverts itself. For more, see www.gov.uk/government/publications/riverside-ownership-rights-and-responsibilities
Published 26 August 2016