War graves damaged in Libya
Over 200 headstones and the Cross of Remembrance in the Commonwealth War Graves Commission Cemetery in Benghazi were deliberately damaged on 24 and 26 February.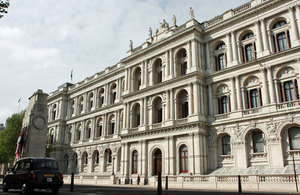 Approximately a quarter of the headstones in Benghazi Military Cemetery were also damaged.
A Foreign Office spokesperson said:
"Officials from our Embassy in Tripoli immediately visited the sites and raised this issue with the Libyan Ministry of Foreign Affairs and the Benghazi Chief of Police. Our Ambassador also raised our concerns with the Deputy Foreign Minister, the Minister of Interior and the offices of National Transitional Council Chairman Abdul Jalil and Prime Minister al-Kib.
"In response to these incidents, Foreign Minister Khayyal and Chairman Abdul-Jalil made statements condemning the attacks, and the transitional government has published a statement on its official website, describing the damage as "unethical, irresponsible and criminal" and making clear that the Libyan government "severely denounces such shameful acts and vows to find and prosecute the perpetrators according to Libyan Law." The Libyan authorities have instructed the police to make regular patrols to ensure no further attacks occur."
Published 4 March 2012