Press release
Walkers to enjoy new stretch of coast path in Norfolk
A stretch of England Coast Path opens in Norfolk as new figures reveal people make over 300 million visits a year to England's coast.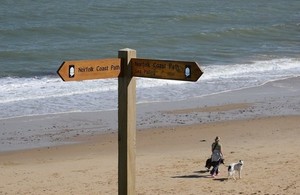 With walking found to be the most popular activity at the coast, the opening of the route in Great Yarmouth by Lord Gardiner of Kimble and Natural England Chairman Andrew Sells means many more people can enjoy our stunning coastlines.
The 21 mile route between Hopton-on-Sea and Sea Palling includes 3 new miles of access between Horsey and Sea Palling, where walkers and wildlife watchers will enjoy a beautiful and quieter section of Norfolk's coastline, some of it for the first time. They will also be able to explore towns and villages along the way, including Gorleston-on-Sea, Great Yarmouth, Caister-on-Sea and Hemsby, benefiting local economies.
Natural England's Chairman, Andrew Sells, speaking at the opening in Great Yarmouth today, said:
The England Coast Path is a fabulous legacy for our great island nation.

The latest section opening here today is a wonderful showcase for Norfolk's varied coastline, from historic towns and villages to stunning wildlife and beautiful beaches.

Opening up the route will also bring huge benefits to the regional economy - our evidence shows walking is the most popular activity at the coast and we spend more time and money when we visit.
Set to visit the coastal stretch today, Lord Gardiner of Kimble, Parliamentary Under Secretary of State at Defra, said:
With this section of coast path opening in Norfolk today, I am delighted even more miles of our beautiful coastline will be open for people to enjoy, giving everyone a chance to take in even more of our breath-taking scenery.

The England Coast Path is a stunning location for people to visit, and has many benefits, including improving our physical and mental wellbeing.
Natural England worked with Norfolk County Council to establish the route. Also speaking at the event, Norfolk County Council Chairman David Collis said:
This 21-mile path opens up a new route taking in varied views such as the spectacular wide golden sands of Great Yarmouth and the wildlife rich dunes at Horsey so I'd urge people to visit and discover more of our beautiful county.

Whether you are ambitious enough to complete the whole new stretch in a day, or simply want to get out and walk off a hearty lunch, it's a perfect excuse to explore the stunning Norfolk coast.
Jonathan Stratford, General Manager at Haven's Hopton Holiday Village said:
We are delighted to hear of the opening of the England Coast Path between Hopton-on-Sea and Sea Palling as it is a project that we have been actively supporting over the last couple of years.

We encourage all our guests to explore the local area and this coastal path gives everyone the chance to discover more of this picturesque and unique coastline with ease.
The opening of new trail coincides with the publication of Natural England's latest evidence report Monitoring of Engagement with the Natural Environment – Visits to coastal England. It shows visitors travel from further afield to reach the coast and visit for relaxation and well-being. They spend up to 3 times more money at a coastal destination than an inland one (£18 compared with £6).
This is the second stretch of the England Coast Path to open in Norfolk following the 26 miles established between Weybourne and Sea Palling in December 2014. It also marks 30 years since the Norfolk Coast Path National Trail, from Cromer to Hunstanton, was opened by HRH The Prince of Wales.
Taken together, the paths cover 83 miles around the Norfolk coast as far as Hunstanton, creating the longest section of coast path in the east of England.
Natural England is currently establishing a 2,700-mile path around the entire English coastline by 2020 and work is already under way on over 60 per cent of the route. When completed, it will be the longest continuous coastal walking route in the world. It will also become a National Trail – the nation's finest and most popular long-distance paths.
See the video with an aerial view of the stretch between Hopton-on-Sea and Sea Palling taken from a drone.
Aerial view of England Coast Path between Hopton-on-Sea and Sea Palling
Published 24 October 2016
Last updated 24 October 2016
+ show all updates
Video with drone view of stretch added.
First published.