Press release
Wales Office seek Big Society ideas from little Newport RASCALS
David Jones with volunteers and workers from the RASCAL project, Somerton Welsh voluntary groups and community organisations will meet Civil…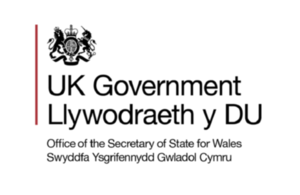 David Jones with volunteers and workers from the RASCAL project, Somerton
Welsh voluntary groups and community organisations will meet Civil Society Minister Nick Hurd and Wales Office Minister David Jones at a seminar to discuss the Welsh Big Society in action on Monday [12
th September].
The Wales Office-led seminar is being held to discuss new ideas and approaches for engaging communities in projects, partnerships and social enterprises in their neighbourhoods. In the first event of its kind, the Wales Office is hoping to spark debate and ideas from community groups, local organisations and businesses attending the interactive seminar.  It is being held at Newport's YMCA conference venue on Mendalgief Road.
Mr Jones will visit RASCAL (Regeneration Association Somerton Community at Large) before the seminar, to see how the Big Society is helping those in the Somerton area of Newport to engage with community projects.  The regeneration-focused project delivers a range of programmes including a healthy eating scheme, garden project, food co-op and community cafe.  RASCAL membership has grown steadily to include 50 volunteers, working in partnership with Communities First and other service providers in the area.
Wales Office Minister David Jones said; "The seminar is an opportunity to hear from community groups and businesses about what the Welsh Big Society actually is in action. There is a lot of Big Society activity across Wales and the Government wants to support people in the best way possible. This event is designed for us to listen to communities, businesses and social enterprises."
Mr. Jones said: "The Big Society seminar is about bringing organisations, businesses and volunteers together to find new ways of helping people become more involved.  Some of the problems we have seen during the summer months are a result of the erosion of social institutions.  I want people of all ages to feel inspired to play an active role in the neighbourhood around them.
"RASCAL is an example of committed, dedicated people helping their area to thrive and taking responsibility for it. This is what the Big Society is all about."
Notes to Editors:
1.) The Wales Office Minister's visit to RASCAL will take place before the seminar.
RASCAL was established in 2001 - there are currently 50 members carrying out a variety of roles in Somerton.  Healthy eating sessions and a garden project are two schemes which are run by R.A.S.C.A.L to the benefit of local young people. It also delivers: GP referral, youth clubs, boxing sessions, dancing, drama, parenting groups, bingo, PCSO surgery, food co-op, community cafe, poker, workshops, it courses, sporting and youth sessions.
2.) The Big Society seminar is the first of its kind to take place in Wales.
The Seminar will also be an opportunity to hear more about "Big Society Capital".   Big Society Capital will operate UK wide in providing finance to support the growth of the social investment market, attract greater levels of finance to address social issues, and allocate capital more effectively to achieve social impact.
Big Society Capital is not a grant making organisation, it will be an independent organisation that can make investments across the whole of the UK - including Wales - based on market need and the quality of deals rather than geographical criteria. The aim is to grow the social investment market so that more finance is available across the spectrum.
Published 9 September 2011