Press release
Wales Office Minister to visit Aberystwyth's cultural hotspots
Lord Bourne calls on people across Wales to promote Aberystwyth as a hub of rich historical culture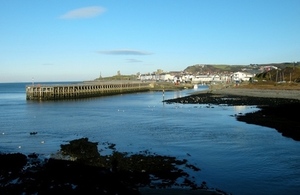 Today (15 July) Wales Office Minister Lord Bourne is in Aberystwyth to celebrate the region's rich historical culture and to call on people across Wales to promote Aberystwyth as a hotspot for tourism.
The Minister is in the town to accept an honorary fellowship from Aberystwyth University where he studied Law.
Lord Bourne will visit the National Library of Wales to see an exhibition celebrating the life and works of one of the great Welsh documentary photographers, Phillip Jones Griffiths.
A Welsh Focus on War and Peace features Griffiths' best-known photography of civilian casualties and suffering during the war in Vietnam as well as a selection of his personal papers and artefacts.
He will also visit Aberystwyth's new bandstand which is half way through a £1.2million refurbishment due to be completed in October. The original bandstand was a prominent landmark on the town's seafront since 1935 but due to storm damage has been rebuilt. The new building includes a two storey bandstand with a public performance space and a restaurant area.
Wales Office Minister Lord Bourne said:
Aberystwyth is much more than an attractive Welsh seaside town – it is a hub of rich culture and history that must be celebrated. It is all of our responsibility to promote Aberystwyth as a tourism hotspot in Wales.

It is an honour to see the impressive collection of Phillip Jones Griffiths work – he was an outstanding photographer and a proud Welshman that beautifully captured a significant moment in history.

It was also great to see the progress that's been made on the new bandstand. For the past 80 years the bandstand has been at the heart of the community and has true iconic significance for the town.
Published 15 July 2015