Press release
Wales Office Minister marks Armed Forces Day in Cardiff
Wales Office Minister, Baroness Jenny Randerson will honour the contribution and dedication of veteran and serving military personnel at events to mark the fifth Armed Forces Day in Cardiff this weekend.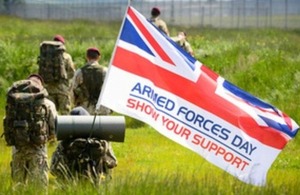 Baroness Randerson will represent the Wales Office ministerial team at the celebrations where those in attendance will have the opportunity to reflect upon, and honour the contribution made by all those who serve, or have served in the British Military.
On Friday [28 June] Baroness Randerson will attend a reception at Coopers Field, where she will take her place among hundreds of spectators to witness a Sea Cadet Field Gun Demonstration, Mess Beatings by the Corps of Drums of HM Royal Marines. She will also receive a briefing from the Royal Navy Presentation Team.
On Saturday [29 June] Baroness Randerson will celebrate our Armed Forces past, present and future in the Firing Line Museum at Cardiff Castle where the day will begin with a reception. This will be followed by a Drumhead Service during which lessons will be read by the First Sea Lord. Baroness Randerson will also have the opportunity to meet with the Service community and their families.
Speaking ahead of the events, Baroness Randerson said:
Armed Forces Day is a time to reflect and honour those who have previously and currently serve in the British Military.
We owe a huge amount of gratitude to those connected with the Armed Forces and for those who work to defend and protect our country. We want to let them know that their commitment does not go unnoticed.
The British Armed Forces Day flag has been flying proudly above Gwydyr House in London all week to show our thanks to everyone involved and I am honoured to be attending both the evening reception and Armed Forces Day reception itself.
I hope the events in Cardiff and across the UK are well attended and I know everyone who attends will do so to show their support for our Armed Forces.
Published 28 June 2013
Last updated 28 June 2013
+ show all updates
Pic added
Added translation