Press release
Wales Office Minister Alun Cairns visits Welsh ports
Alun Cairns: "Wales can continue boosting its economy through its excellent maritime industry"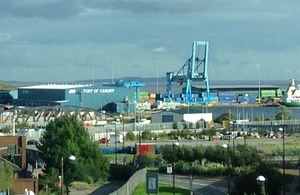 Wales Office Minister Alun Cairns will today (1 September) visit Newport and Cardiff ports operated by Associated British Ports (ABP), to highlight the significant role Welsh ports play in growing the Welsh economy. His visit comes in the lead-up to London International Shipping Week (LISW) 2015, which commences on 7 September, and provides networking opportunities for leaders across all sectors of the international maritime industry.
At Newport, he will see the work underway to expand the port by a hefty 7,200 square metres at a cost of £2.76m. The port supports 3,000 jobs in the city and in 2014 handled 1.85 million tonnes of cargo, an increase of over a fifth on 2013.
The minister will also tour the port of Cardiff, which handles a full range of cargo from petroleum to containers. In 2014, some 1.7 million tonnes of freight passed through the port.
Cardiff port, once the world's biggest coal exporting port, and neighbouring port city Newport, respectively contribute £121m and £186m annually to the Welsh economy.
Alun Cairns said:
The UK is at the forefront of the international maritime sector and Welsh ports offer world-leading business services and a vital link for our manufacturing industry to access raw materials.

Over the years, our ports have demonstrated the resilience and adaptability needed to evolve and support the industries that make our economy a success.

I am confident that, as the Welsh economy grows, our excellent maritime industry will continue to boost the Welsh economy and provide the vital support that our businesses need to thrive.
Chris Green, Port Manager Cardiff and Newport said:
We were delighted to welcome the Minister today. Together with our other South Wales ports in Barry, Port Talbot and Swansea, both Newport and Cardiff make a crucial contribution to the economy. The importance of that contribution will continue to grow in the years ahead.

We are committed to working with Government to ensure all our ports can realise their full potential; attracting more investment, driving more trade and creating more jobs.
Further information on London International Shipping Week 2015 can be found here
Published 1 September 2015
Last updated 2 September 2015
+ show all updates
Added translation
First published.