Press release
Wales Bill receives Royal Assent
Welsh Secretary Stephen Crabb: "This is an historic day for Wales."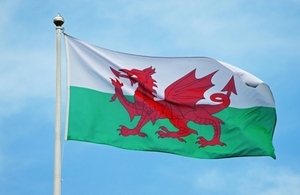 The Wales Bill received Royal Assent today (17 December) providing the Welsh Government with a powerful incentive to grow the Welsh economy and strengthen their financial accountability and transparency.
The Bill devolves a range of tax and borrowing powers to Wales including landfill tax, stamp duty, land tax and, subject to a referendum, an element of income tax.
These changes mean the Welsh Government is now accountable for raising some of the money it spends and will have the necessary tools to grow the Welsh economy to benefit the people of Wales.
Secretary of State for Wales Stephen Crabb said: "This is an historic day for Wales.
Today's Royal Assent of the Wales Bill will help create a robust and lasting Welsh devolution settlement.

It means that for first time the Welsh Government is not only responsible for the money it spends but also for raising a portion of that money as well.

It is now important that they make full use of these new financial powers as soon as possible to help grow and strengthen the Welsh economy.
The Bill cleared the final stage in the House of Commons last week, following completion of its stages in the House of Lords on 24 November.
Mr Crabb has set a deadline of St David's Day next year to publish a blueprint for change to the way Wales is governed.
Last month, Mr Crabb set out his vision for devolution in Wales. Read Mr Crabb's speech here
Published 17 December 2014