Press release
VOSA signs ports agreement
The British Ports Association (BPA) and UK Major Ports Group (UKMPG) commit to improving road safety.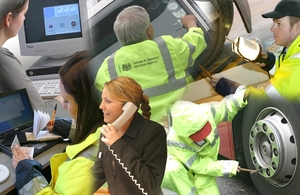 VOSA has signed an agreement with the BPA and the UKMPG which will see all parties working together to improve road safety.
The 3 parties have signed a memorandum of agreement, a formal document which sets out the key principles of VOSA enforcement activities at ports.
The principles are:
where there is no reasonable alternative to carrying out checks at ports, VOSA should be given access to suitable areas within the ports to enable the checking of vehicles at times agreed with the ports

vehicle checks carried out within or in close proximity to ports will be coordinated and conducted at a level which maintains fair competition between the ports and are proportionate to checks carried out at competing ports and inland checkpoints

the checking of vehicles is to be conducted in such a way as to minimise disruption to the smooth flow of traffic through the port
All detailed arrangements of how checks will be conducted to be the subject of local agreements between port authorities and VOSA's operational managers.
VOSA's Chief Executive Alastair Peoples said:
I am delighted that we have been able to negotiate this agreement which will help VOSA carry out essential checks on vehicles coming into Britain and make sure they are in a fit state to be on the roads.

VOSA has been working at ports for many years but today's agreement signals a greater commitment than ever before from ports and terminals to help VOSA carry out its vital work in making Britain's roads safer.
Notes to editors
VOSA is responsible for:
processing applications for licences to operate lorries and buses and registering bus services
operating and administering testing schemes for all vehicles, including the supervision of the MOT testing scheme
enforcing the law on vehicles to ensure that they comply with legal standards and regulations
enforcing drivers' hours and licensing requirements
supporting Traffic Commissioners to help them make informed decisions on operator licensing, vocational drivers and bus registration requirements
providing training and advice for commercial operators
investigating vehicle accidents, defects and recalls
British Ports Association (BPA)
Created in 1992, the BPA exists to represent the interests of its 86 full members, and numerous associate members, to the United Kingdom and devolved governments, the European Union and numerous national and international bodies.
This allows BPA to consult with a wide range of interests, and to set an inclusive agenda for all port ownership types and markets.
As its membership is so varied and comprises many ports, terminal operators and port facilities of varying size, locations and nature, it is able to draw upon a wide range of experience and knowledge in order to fulfil its remit, and represent the port industry in a wide range of fields and on a large number of issues.
UK Major Ports Group Ltd (UKMPG)
The UKMPG is the trade association representing most of the larger commercial ports in the United Kingdom.
It has 9 members who between them own and operate 41 ports and 2 terminals accounting for over 70% of the tonnage handled in UK ports.
The main function of UKMPG is to represent the interests and concerns of its members to policy makers and opinion formers in the UK and Europe on those areas of government or EU policy which affect the industry. UKMPG is a company limited by guarantee.
VOSA media enquiries
You should contact our press office if you have a media query or you're a journalist.
Published 14 December 2010