News story
VMD's biennial Pharmaceutical Industry Customer Survey 2016
The survey is open to those who deal with the VMD on behalf of a Marketing Authorisation holder or the holder of Manufacturing, Wholesaler Dealer, Autogenous Vaccine, Blood Bank or Equine Stem Cell Centre authorisations.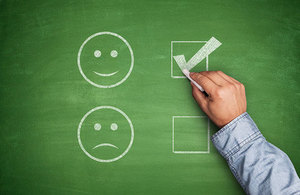 The deadline for completion of the survey is 5pm on Friday 12th February 2016.
If you are a named contact who deals with the VMD you will have received an email containing a link to the web survey. We welcome returns from any individual in your company who regularly deals with the VMD. In this way, we hope to capture a wide range of views and ideas for improvement.
The survey is being conducted on our behalf by an independent market consultancy which specialises in agriculture and animal health.
Anonymity is guaranteed so that no individual or company will be identified against any statement.
Ultimately, we will use the findings from the survey and any follow up discussions to improve our services. We will also make the results of the survey and any planned improvements available to you.
Results of the 2014 for your information
Presentation at Industry event 2014: Customer survey section (PDF, 320KB, 20 pages)
Associated action plan (PDF, 339KB, 29 pages)
If you are a VMD pharmaceutical industry customer and have not received a link to the web survey or have any questions, please email David Lewsey, at the VMD d.lewsey@vmd.defra.gsi.gov.uk
Published 20 January 2016