News story
VJ Day 70: Far East veteran leaves his mark on soldiers of today
Soldiers from The Royal Anglian Regiment welcomed one of their former members to hear about his experiences ahead of VJ Day this weekend.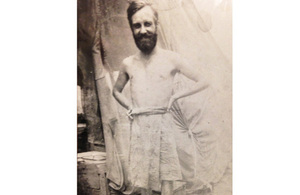 John Riggs served during the Second World War with the Bedfordshire and Hertfordshire Regiment, which joined with several regiments in the late 1950s to eventually become The Royal Anglian Regiment.
With less than a week to go before VJ Day, modern day Royal Anglians invited John to their Regimental Headquarters in Bury St Edmunds to view some of the historical items and artefacts they hold there.
John Riggs on operations as a Chindit
It was also a chance for Mr Riggs to share his stories with younger generations of soldiers. The 95-year-old, from Aylesford in Kent, served in the legendary Chindits, an Allied Special Forces unit under Brigadier Orde Wingate.
Their job was to penetrate deep behind enemy lines in Central Burma, supported by the Royal Air Force. Mr Riggs, who lives in Aylesbury, Kent, said:
I did about 800-900 miles in five months on my flat feet and half the time the monsoon was belting down with great fury.

Our job was to tear up the railway lines and cause every possible trouble to the Japanese who were trying to invade India at the time.

I suppose we did some good. It was a physical trouble. We were all a bit undernourished, to put it mildly. We never had enough calories to eat all the time we were there and once the monsoon rain started every insect possible came out – mosquitos in particular. We all got malaria and some even worse things like typhus.
One of the soldiers who met Mr Riggs was Colour Sergeant John Naylor, 40, from Bury St Edmunds. Colour Sergeant Naylor has his own Far East connections – his great uncle escaped an attack on an Army hospital in Singapore and became a Prisoner of War.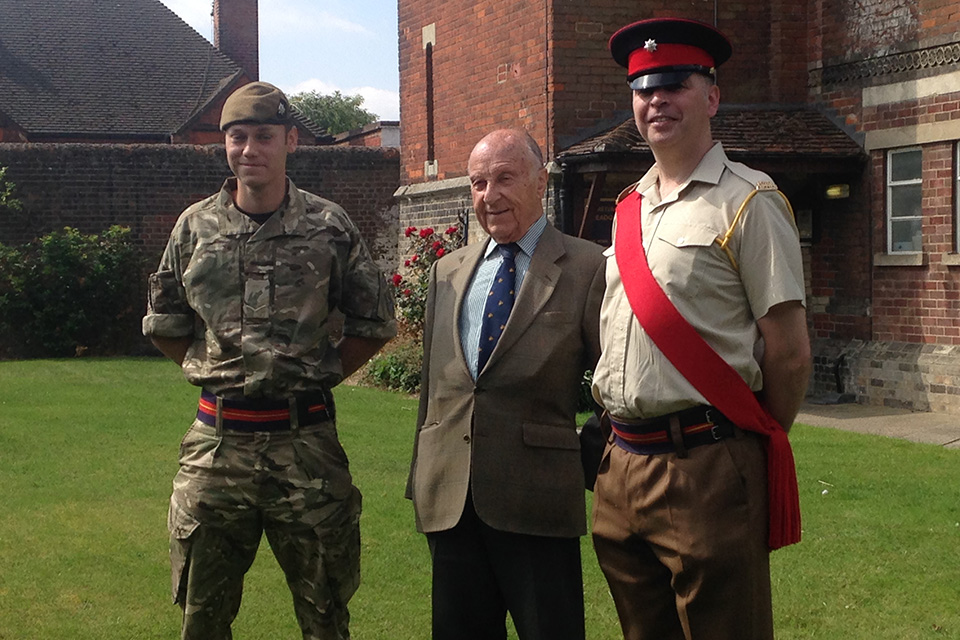 Both Mr Riggs and Colour Sergeant Naylor will highlight their regimental connections on VJ Day when they both read at the major commemorative event being held in London. Speaking after meeting John, he said:
The upcoming anniversary of VJ Day is very personal for me and for the nation is something we must remember.

It was great to meet John. He is an absolute legend among not just our Regiment. The Chindits' actions are known across the world. They marched 1,000 miles through the jungle terrain, which is just unheard of.

John is a true hero. He is so nice as well. He downplays everything when what he did was phenomenal.
VJ Day 70
Her Majesty The Queen and members of The Royal Family will attend a series of events on Saturday 15 August 2015 in London to commemorate the 70th anniversary of VJ Day.
Members of the public are being encouraged to support this anniversary by lining Whitehall in Central London to watch a spectacular flypast of historic and modern military aircraft, view the drumhead service taking place in Horse Guards Parade on big screens, and cheer on the veterans as they parade supported by military bands and current personnel in honour of the role they played in the Second World War.
Visit VJ Day 70 for more information about the event and how you can take part. You can also join the conversation online by following #VJDay70.
Published 10 August 2015