News story
Visits to England's museums and art galleries hit record high
Minister Ed Vaizey hails public's 'unflagging appetite' for culture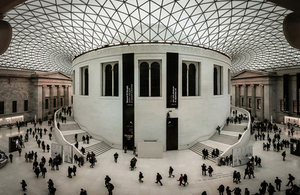 New figures from the Taking Part survey, published today, show that visits to museums and galleries in England have remained at their highest levels, with over half of all adults in England visiting a museum or art gallery in the last year.
During the same period, 78 per cent of all adults attended or participated in the arts, a 'significant increase' since 2005/06; and 73 per cent of adults visited a Heritage site.
The survey also shows that, since 2005/06, there have been 'significant' increases for adults engaging with the arts in the North East (from 70.2% to 75.6%), and the North West (from 71.5% to 76.7%).
Commenting on the figures, Culture Minister Ed Vaizey said:
These new figures provide a timely response to those who believe that the public's appetite for serious culture is on the wane, or that we as a nation are dumbing down.The truth is that people have an unflagging appetite for our arts, culture and heritage when they get the chance to experience it first-hand.

This is a tribute to the brilliant work of everyone involved with our theatres, concert halls, museums and galleries. We are living through a golden age in the arts and it's great to have the evidence that people are continuing to make the most of it.
Further information
Published 12 December 2013