World news story
Visiting UK MOD Delegation Agree Plan for Military Cooperation
A UK MOD Delegation led by the Deputy Head for NATO and European Policy, Mr David Murtagh conducted annual Defence Staff Talks with the MOD of the Republic of Tajikistan 4-5 June.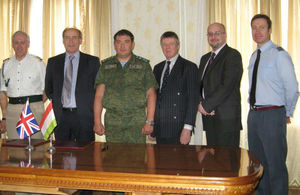 Mr Murtagh's Directorate also has responsibility for UK MoD Central Asian Policy and he has previously visited Tajikistan for negotiations over the successfully concluded Afghan Transit Agreement. The Defence Staff Talks were hosted by the Tajkik MOD under the chairmanship of Colonel Tohir Khayrulloev, Chief of Staff of Mobile Forces, and discussed the military activities that would take place in the 2 countries over the next 12 months, and included a visit by the Delegation to the Peacekeeping Battalion of the Tajik Armed Forces.
The UK's emphasis is on assistance with English Language Training for Tajik military personnel so they are better able to attend UK Peacekeeping courses, which in turn will assist with the development of this Battalion. UK also hopes to be able to provide some equipment support to the Tajik Armed Forces during the redeployment of UK Forces from Afghanistan. UK continues to rely on the Tajik Armed Forces for support to the Dari Language Training that takes place in Dushanbe. One of the highlights of this year's Military Cooperation Plan signed on 5 June was agreement to the first ever Tajik officer cadet attending the UK's Royal Military Academy Sandhurst in 2014.
Published 19 June 2013