World news story
Visiting Falkland Islander asserts Islanders' right of self determination
Barry Elsby, Member of the Legislative Assembly (MLA) of the Falkland Islands concluded a two day visit to Guatemala, aimed at defending the Islanders right of self-determination, and highlighting the economic opportunities in the Islands.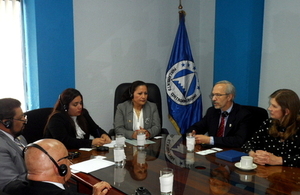 MLA Elsby made a courtesy visit to the Ministry of Foreign Affairs; he also spoke with members of the Central American Parliament (Parlacen), and met with academics and opinion makers. Guatemala is the penultimate destination of the MLA, who began a week ago a tour to Chile, Colombia, Panama, and finally to El Salvador.
Also in Guatemala, MLA Elsby discussed a study by academics from the University Francisco Marroquín, who visited the Islands and analyzed the economics, politics and the rule of law in the Falklands. The report highlights the economic potential of the Islands from hydrocarbons, fisheries, and tourism as well as praising its political and social stability.
Mr Elsby explained that under the UN Charter the people of the Falkland Islands had the right of self determination and they had exercised this right in their referendum last year when 99.8% out of a 92% turnout had voted in favour of remaining a UK Overseas Territory.
The assemblyman also denounced and condemned the bullying actions of the Argentine government which was trying to damage the Islands' economy by threatening companies which participate in the Falklands fisheries and oil and gas industries with legal action, by harassing cruise ships which visit the Falklands and persuading Mercosur countries to deny port access to Falklands flagged vessels. In spite of these actions the Falklands economy was flourishing.
To mark the visit of MLA Elsby, the British Ambassador in Guatemala, Sarah Dickson, said:
"The UK Government reiterates its absolute commitment to preserve and protect the Islanders right of self-determination. Britain will not negotiate the sovereignty of the Islands unless and until the people who inhabit them so desire. However, there are many areas of opportunity to enhance the relations between the Islands and Latin America, including Guatemala. I invite you to take advantage of them".
Published 2 September 2014