World news story
Visit to Hong Kong by Foreign Office Minister Hugo Swire
The Rt Hon Hugo Swire MP, Minister of State at the UK's Foreign and Commonwealth Office, visited Hong Kong on 24 July as part of a visit to the region.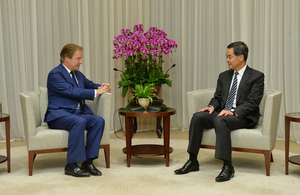 This was Mr Swire's second ministerial visit to Hong Kong in 2015, following on from his trip in January.
During his time in Hong Kong the Minister discussed the full range of UK-HK bilateral issues with the Hong Kong Special Administrative Region Government, meeting the Chief Executive CY Leung, Financial Secretary John Tsang and the Secretary for Housing and Transport Anthony Cheung. Mr Swire also met legislators and investors as well as the Chief Executive of the Airport Authority to explore the opportunities for British businesses arising from this major infrastructure project.
Speaking in Hong Kong Mr Swire said:
I am delighted to be back in Hong Kong – it is one of the UK's most important international partners, and we remain closely connected by our business, educational and cultural ties. A lot has happened since I was last here and I've had a number of productive meetings today, including with the Chief Executive CY Leung.
Further information
Follow the British Consulate-General Hong Kong on Facebook and twitter @UKinHongKong
Published 24 July 2015