Visit of German Foreign Minister underlines key partnership on global issues
For the first time since his nomination, Foreign Secretary William Hague welcomed German Foreign Minister Dr Guido Westerwelle to the Foreign Office this morning.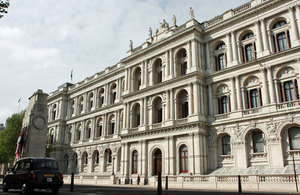 "I'm delighted to welcome my friend, Guido Westerwelle to London today, the Foreign Minister of Germany.
As you know this Government is determined to strengthen the UK's bilateral relationships and to play a very active role in the European Union, supporting the use of the European Union's collective weight in the world when we can find agreement in the EU on how to do so.
Germany is a key bilateral partner for the United Kingdom and a firm friend to Britain."
During their meeting they discussed the global issues where the UK and Germany work together. They agreed on the historic importance of the direct talks between Israel and the Palestinians, and confirmed that both countries, together with European partners, stand ready to do everything possible to buttress them. They discussed developments on Iran including the implementation of recently-agreed EU sanctions and next steps, within the context of Germany and the UK's firm commitment to a diplomatic path. They also discussed the changing threats to the UK and Germany, and how NATO can best meet these challenges, ahead of the NATO Summit in Lisbon later this year.
The Foreign Secretary and the German Foreign Minister then went on to discuss the Western Balkans. Both Ministers have recently visited the region to highlight the need for progress on a number of fronts. The UK firmly supports EU enlargement to the Western Balkans, and the Foreign Secretary made this support clear during his visit to Serbia this week. The ministers discussed the EU's engagement with Serbia and Kosovo following the recent International Court of Justice Opinion on Kosovo. They were in firm agreement that there can be no further discussion on the status of Kosovo, and strongly hoped that Belgrade and Pristina would take up Baroness Ashton's offer to facilitate a process of dialogue. Both ministers pledged full support for that process.
Published 2 September 2010