World news story
Visit of Ambassador Dickson to San Pedro Sula and Tegucigalpa
British Ambassador to Honduras, Sarah Dickson, visited San Pedro Sula and Tegucigalpa from 15-17 June where she met key contacts to discuss areas of mutual interest in the UK-Honduras relationship.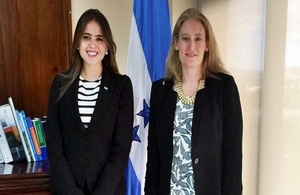 Ambassador Dickson had meetings with Ministry of Foreign Affairs, Congress, civil society organisations and business contacts for discussions about UK efforts to streamline its presence in Honduras and support for the government of President Juan Orlando Hernandez towards strengthening the country's democracy and prosperity.
Whilst in San Pedro Sula, Ambassador Dickson met economic contacts where she received an update on the country's business climate and Honduras' progress towards achieving a customs union in Central America. She praised the business community and government efforts for successfully implementing the EU-Central America Association Agreement. According to UK trade figures, the total commerce between Britain and Honduras grew 13% between 2013 and 2014, due in part to the treaty.
Ambassador Dickson then visited Tegucigalpa for discussions with senior officials on a wide range of internal-policy issues. She met the Vice-President of Congress, Antonio Rivera and other deputies; the Vice Minister of Foreign Affairs, Maria Andrea Matamoros; and members of civil society and Human Rights organisations. Ambassador Dickson also announced that the UK is financing a project (US$70,000) in Honduras this year, aimed at preventing violence against women and working closely with journalists on gender related issues.
Ambassador Dickson and her counterparts agreed on the importance of our two countries of maintaining positive bilateral relations. A delegation of Honduran Congressmen will also visit London later this year. They discussed the importance of finding ways in which the UK and Honduras could continue to build strategic trust and contribute towards strengthening the justice system and improving transparency.
Published 17 June 2015