Visit by Overseas Territories Minister to the Cayman Islands
Henry Bellingham MP makes first visit to the Cayman Islands 18-21 April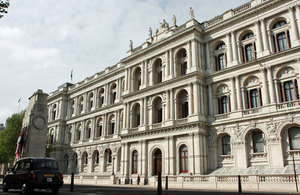 Governor Duncan Taylor welcomes Mr. Bellingham
Henry Bellingham MP, Minister for the Overseas Territories at the Foreign and Commonwealth Office, left Grand Cayman on Saturday after a full and rewarding four-day visit. This was the Minister's first visit to the Cayman Islands.
In his discussions and meetings with the Premier, Cabinet and other senior members of the government, the opposition, public service, the business community and civil society, the Minister learnt more about the Cayman Islands and explained his vision for the future partnership between the United Kingdom and the Cayman Islands which will be set out in the forthcoming UK White Paper. He also discussed the challenges and his expectations with regard to good governance.
Henry Bellingham with members of Cabinet
Other themes of the visit included:
Crime: Mr. Bellingham heard about the efforts by the Royal Cayman Islands Police Service to tackle crime.
Environment: The Minister was briefed by the Department of Environment on the environmental challenges facing the Cayman Islands. He learnt about the Department's Marine Park Review and visited its lionfish laboratory.
Disaster Management: Members of Hazard Management Cayman Islands briefed the Minister on their plans ahead of this year's hurricane season.
Education: Mr Bellingham visited John Gray High School and an after-school programme for at-risk youth at Red Bay Primary School.
The Minister at John Gray High School The Minister at Red Bay Primary School
Highlights of the trip included:
a cultural evening organised by the Premier at Pedro Castle. This included musical and dance performances by local school children;
a meeting with past and future Olympians to mark 100 days until the opening ceremony of the London Olympics 2012;
a lunchtime discussion hosted by Cayman Finance with representatives of the Financial Services industry;
a helicopter tour of the island on the police helicopter to see fro himself its capabilities in support of crime;
a trip to Cayman's most famous tourist attraction, the Stingray City Sandbar.
On his departure the Minister said, "I have had an excellent but all too short visit to the Cayman Islands. It is clear to me why Cayman has been so successful in the past and why I hope that it will continue to be successful in the future; world class and well regulated financial services and a world famous tourism product. But there will continue to be challenges: the need to keep pace with the development of both industries around the world, the need to diversify the economy and the need to maintain Cayman's reputation as a great place to invest, do business and spend time."
The Minister hopes to return to the Cayman Islands soon.
Search the news archive
Published 26 April 2012